What Social Media Managers Really Do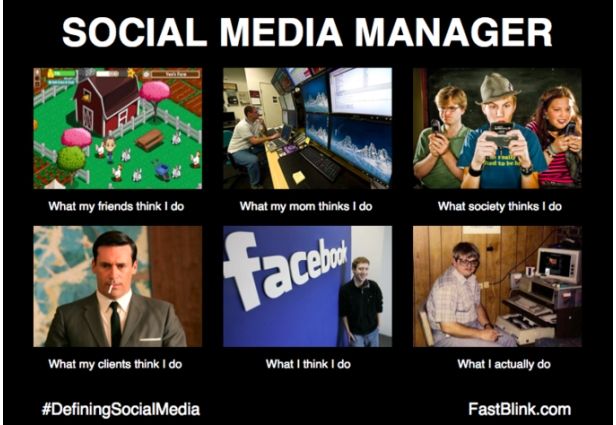 There's an Internet meme for social media managers that goes something like this. Six images are subtitled with something along the lines of "What My Friends Think I Do" (play Farmville all day), "What My Mom Thinks I Do," (a man sitting in front of a bank of huge, state of the art computer screens), and so forth, concluding with "What I Really Do." That final panel depicts a sad looking man in a paneled basement with an ancient computer.
While that's not accurate, there's an ironic truth in it. Social Media Management isn't all fun and games, and it's not particularly glamorous. As the meme jokes, we are neither Don Draper nor Mark Zuckerberg, we are behind-the-scenes worker bees. Hopefully we're not toiling away in dim basements on 1994 technology, but honestly, we could be.
So what does a Social Media Manager do all day?
We're brand evangelists.
A social media manager crafts social media posts on all manner of social media platforms for any kind of business or organization. Some of us are lucky enough to do this for just one organization, but many of us work for a wide variety of clients, and we have to be experts on the culture and brand initiatives of every one. Our posts must be original, thoughtful, creative, and personal, but they still must match the branding of the business from the logos and color palette, to other marketing materials, and most importantly, the "tone" of the business. This is harder than it sounds, and we don't do it once. We do it day after day after day in a hundred little ways, on all manner of social media platforms.
We're social media platform experts.
To manage the accounts of any business or organization, we have to have intimate knowledge of how all the different social media platforms work. When we're not making posts, we're reading up on changes to the platform's tools and algorithms and planning how to put those changes to work.
We don't stop.
The Internet doesn't shut down conveniently at 5 p.m., so neither can we. Many social media platforms are just heating up then, so we see boosts of activity on our accounts all evening long. We respond to comments and messages, answer questions, and interact with customers late into the evening. Social media management is more than just creating posts, it's moderating the accounts as well. Someone has to watch those accounts when they're most active, and that's often in the evening.
We're content machines.
Social media works best as a marketing tool when the content is fresh and personalized. We could post links to generic industry articles or cutesy quotes all day, but most of us don't do that. We must stay absolutely up-to-date with the goings on of a business so we can create up-to-the minute posts. We're in constant contact with our clients and their communications departments. We take a lot of photographs. We make videos. We write blogs. We send newsletters. There wouldn't be time to play Farmville even if we wanted to.
We work behind the scenes.
There's no recognition in being a social media manager. We don't mind this. It's one of the realities of the job. We're not Don Draper nor Mark Zuckerberg because our work is secret to everyone but the client. We post on behalf of the client, not as ourselves. Looking at a social media account, no one knows who is making the posts – someone inside the business or an outside contractor. No matter how you are related to the client, it's anonymous work. That said, when a post is popular, there's satisfaction from knowing you hit the right note with your client's fan base. That makes it all worthwhile. The feedback we get from our clients is all the recognition we need.
So while playing on Facebook all day might sound appealing, that's not at all what social media management involves. We're Facebook experts, yes, but not because we're sharing funny cat videos to our own timelines all day. Social Media Management requires a broad range of knowledge, creativity, and talent, and it's not an "easy" job. It's time consuming and changes every day. As a social media manager, you make posts on social media, yes, but to do that well, you have to be a marketer, researcher, writer, photographer, and tireless communicator.
So what do you think you do, fellow social media managers? What do you really do? What are the realities of your job that I might have missed?