Better Social Media in One Week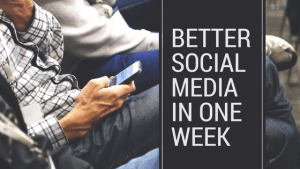 "I just don't have time to do social media." If we had a dollar for every time we've heard this phrase, well, we wouldn't have to be in business any more. But we are here to help just those types of business people. We do understand that many small businesses can't afford to hire a social media manager, which is one of the reasons we are passionate about educating anyone who is willing to learn. (That, and both Darlene and I have worked in education in past lives, so it kind of comes naturally.) While good social media marketing will absolutely take time and effort, I'm here to let you know that you can make a real difference in your marketing efforts with just 20 minutes a day. With my plan, your social media marketing will be much improved in just one work week. Don't believe me? Keep reading..
Monday
Yes, I know. Mondays are the worst and, probably, your busiest day of the week. If you can take a 20-minute break from your emails and meetings, however, I promise it'll be worth it. Today is all about optimizing your social media pages. Make sure all the information on them is current and accurate. Update the About and Services sections on Facebook, as well as your Call-to-Action Button. All your basic information on Twitter, Instagram, Snapchat, and Pinterest should be updated, as well. This quick update will ensure your customers are getting accurate information when they look you up on social media, which is (obviously) important.
Tuesday
Social media is social. Before you say, "Duh, Bri," hear me out. It's important to create relationships with all kinds of people via social media. It's easy to reach out to costumers, potential clients, influencers, and local businesses using one or more of your social media pages. Use your 20-minute social media time today to follow these people from your business accounts. Find world-class influencers in your field and follow them on Twitter. Like the Facebook page of the craft brewery your restaurant always has on tap. Follow the Instagram page of someone who's work you admire. Not only will this possibly encourage these accounts to like and follow you back, thus increasing your reach, but these accounts can serve as inspiration or content that you can find useful in the future.
Wednesday
Ok, now you need a plan. This doesn't have to be a concrete plan, but rather something that will evolve as you spend more time on your social media. Take today's 20 minutes to decide what you want your social media to look like. Will it be heavily visual, relying mostly on high-quality photos of your work? Or will it be more informational, with the need to write blogs and share relevant articles? The answers to these questions relies on the type of business that you are in, and many will find that a combination of post types is the best. After just 20 minutes, you should have a better idea of what your social media marketing will look like. And, if you have a few minutes to spare, try to take some pictures or write a quick blog.
Thursday
And now we post. After putting in just 1 hour of social media work this week, you're ready to make and schedule posts. One important bit of social media knowledge is knowing what days and times are best to post. Because that would take up an entire blog post, we'll direct you to this in-depth blog about posting times from CoSchedule. Don't worry if you're not an expert in this area right off the bat- that will come with experience and learning what works best for your social media pages. We also recommend signing up for a service that helps you organize and schedule your social media posts. We use Hootsuite, but there are lots of other great ones that are guaranteed to make your life easier and help you spend less time on your social media marketing every week. And remember- social media is more about quality than quantity, so focus on creating posts that will interest and engage your customers. If you don't post as many times as you'd like, especially in the first couple weeks, that's fine.
Friday
You made it- it's Friday! Use today's 20 minutes to assess this week's work. Take a quick look at the posts you made and your followers' interaction with them. Did people like the article you posted on Facebook? Did they retweet your Tweets or comment on your Instagram post? After a couple weeks of posting, you can get more in depth analysis of your posts by looking at the analytics of each platform. (More on that in a future blog, perhaps.) This is how you will mold your future posts to better fit your audience's needs. Also, take a few minutes today to reply to any comments that were made on your posts or questions that were asked. Social media marketing is ultimately a tool for conversation with your audience, so be sure to use it as such. The more you engage with your audience, the more they will continue to engage with you.
With just 100 minutes of work throughout the week, you've already greatly improved your social media marketing. And you can keep this momentum going by devoting a little bit of time each day to creating content, making posts, and conversing with your followers. We know it seems like a big task at the start, but by breaking it down into manageable tasks, you, too, can become a marketing pro. If after reading all of this, you still have zero desire to do your own social media marketing, then give us a call. We'd be happy to help.