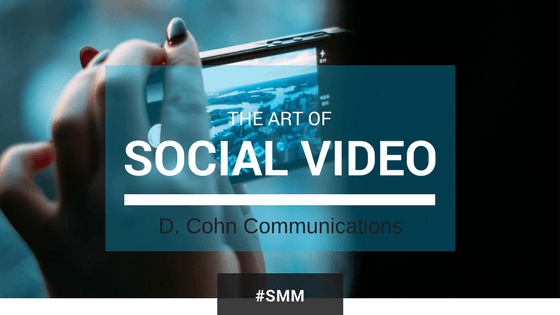 The Art of Social Video
Recently, Facebook updated to automatically play audio for videos, even if you don't click on them. This means, when you're scrolling through your feed, you get snippets of sound from video you have no interest in watching. It's annoying and noisy and distracting to others in the room. No more scrolling discreetly through Facebook in bed or while you're "watching" tv with others. Better hit that mute button, or better yet, disable the feature in your settings.
This change loudly highlights the omnipresence of video on social media platforms. It has been lauded as the must-have content for social media marketing for over a year. Facebook has been the platform most aggressively promoting it– doing everything it can to bring video to viewers, from creating new tools like Facebook Live to extending the reach of video posts.
But not all video is created equal, and I would caution you against creating it just for the sake of being on trend. As I suggested above, unwanted video is now more than simply boring, it can be noisy and even intrusive. If you're going to make movies, you better make them good, or it's going to reflect negatively on your brand. Good video will absolutely draw your audience closer to you, engage them more deeply, and improve your social media marketing response. Bad video is just bad – uninspired, uninteresting, and now mildly annoying.
So what does good video look like?
Think about what you enjoy watching on social media. Maybe it's cute animals? Maybe it's news? Maybe it's your nephew scoring a soccer goal? Maybe it's stylized recipes being prepared magically in 60 seconds? My guess is it's rarely someone sitting in a chair, looking at the camera, intoning about their business.
To make engaging video, you simply must be creative. You no longer need to have polished, professional-quality work to keep your audience's attention, but you do have to be interesting. Start there. As Steve Stockman says in his book How to Shoot Video that Doesn't Suck, "For an obviously commercial video like one promoting your product or service, the audience's trigger fingers will hover even more anxiously over the mouse. They know you're trying to sell them. If you don't also entertain the hell out of them, you're history" (191).
What to Shoot
"But there's nothing entertaining about what I do!" you say. Not true. What makes your business interesting to you? Those are often the things that will entertain your followers. Show them your point of view. Are you a restauranteur? Excellent. People love food on social media. Show them the kitchen. Show them the cooks working. Are you a plumber? Great! Skip the grislier visuals, but give us tips on how to keep our plumbing running right, show us plumbing disasters, give us the worm's eye view from what it looks like down in that hole you're digging. Are you a banker? Show us in the safe. Are you a writer? Show us your writing space. Show us inside that café where you've been diligently working on your masterpiece. Show us what inspires you.
The most important part of creating engaging video is to start by thinking of your audience. What do they want to see? Think about the questions you get asked the most, and answer those questions visually.
Raw and personal video is often even more engaging than professionally made productions because it feels more immediate, more intimate. With video built into many of the most popular social media platforms, there's no need for a professional camera and boom mic. You can take video with your smartphone. But keep in mind some basic rules of good video when you do: don't stay focused on one unmoving object for too long, try to avoid shooting long, monotone monologues, and don't make your videos overly long.
Video may be 2017's most exciting social content development, but done wrong, it can hurt more than it helps. Take the time to be as compelling with video as you are with ALL your content, and you will reap the rewards of a more engaged following.