Our 2018 Content Marketing Resolutions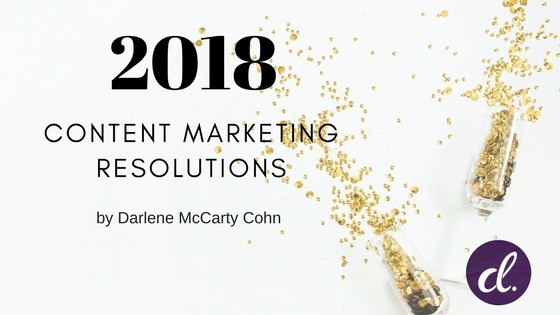 Last year, I purposely ducked the annual "Social Media Predictions" article, because frankly, they all say more or less the same thing. (Video. AI. Storytelling. Micro-Influencers. Customization. Blah blah blah.) Where's the fun in that? Instead I shared some resolutions that businesses and organizations should consider for improving their digital marketing efforts in 2017.
This year, I'm going to take a look in the mirror and share my personal goals. Maybe my resolutions will resonate with you. Maybe it will be comforting to know that a digital marketing company struggles with the same things you do. Maybe you're outpacing us – if so, rock on!
My Goals
Update our website
They say the average lifespan of a website is 2.5 years, and ours hit its 4 year mark in September. A lot has changed in our company since its inception, and while some of those changes are reflected on the website, not all of them are. We need to update our services page, add back the team page, refresh images and copy, and tweak the SEO. Yes, I actually do all this myself, and it's time consuming. Keeping your website up to date, fresh, and moving quickly is very important for SEO. Hopefully you have a web design firm helping you.
Video blog
Can you believe that we still don't make videos for our business on a regular basis? Any digital marketer, and I mean ANY digital marketer, will stress the importance of compelling video in any marketing plan. But I'm a writer by trade, and I'm very uncomfortable in front of a camera. Sure, I could make someone else do it, but that doesn't feel fair. I need to bite the bullet and just do it and hope that no one throws eggs at their screen. I have plenty of ideas sketched out. I have the equipment. I just need to do it. If you're still hesitating on video, it's time to jump in. There are plenty of experts out there to help you, and it doesn't have to cost an arm and a leg.
Jump start our email campaigns
Email marketing is even more fundamental than video marketing, and yet, I gave it up a couple of years ago. Why would I even do such a thing? Because our company is small, and my time is precious. We weren't seeing much return from our email marketing. Instead of scrapping it, however, I should have revamped my strategy. I am totally aware of that. I just didn't dedicate the time to it that I should have. It's time to get back in the game. Hopefully you have a robust email campaign as part of your marketing strategy. It's a great way to convert leads. If you're not sure how to collect opt-ins or craft emails that people actually want to open, there are definitely content marketers just waiting to help you with that.
Spend more time on audience development
I've always been philosophically committed to growing the D. Cohn Communications social following organically. There's a good reason for this: I want meaningful relationships with my followers, not just big numbers. Consequently, I don't do a ton of paid promotion, and I'm not aggressive about acquiring new followers. However, this is not a strategy I necessarily recommend to our clients. There needs to be a balance between growing an audience and converting them into genuine fans. Developing your following strategically isn't difficult; it just takes planning and time. I would like to refresh my approach to this and work on growing our active follower base across all platforms. Reach, engagement, and conversion are what digital marketing is all about, but you have to have a basic audience to reach and engage with first.
Develop relationships with influencers
Influencer marketing is the strategy of the moment, and D. Cohn Communications hardly takes advantage of it at all. We would like to do more of this for our clients, and we would like to do more of it for our own company. Forging relationships, whether organic or paid, with well-known and well-followed social media personalities, like all digital marketing, takes time and patience. It's a powerful strategy, however, and really should be incorporated into almost any marketing plan. Ours included. If you're not sure where to start with influencer marketing, we would love to help.
2018 is gonna be busy.
As you can see, I have a lot of work to do. Digital marketing campaigns take time and strategy. I do all these things for clients, but not necessarily for my own company. So I commit myself to getting a better grip on these critical elements of a digital marketing plan in 2018. Everyone has room to improve, even the experts.
So how about you? What digital marketing strategies will you implement in 2018?