12 Days of Digital Marketing Day 5
12 Days of Digital Marketing: Day 5
Five Golden Rings: or LinkedIn Company Pages
Welcome back to the 12 Days of Digital Marketing, in which we rather quirkily pair up 12 alternatives to Facebook marketing with the 12 Days of Christmas. Today's installment examines the 5 Golden Rings of digital marketing, LinkedIn.
When comedian Eddie Izzard describes the Twelve Days of Christmas song in his standup video Dress to Kill, he maintains that the only phrase anyone remembers from the song is "Five Gold Rings!"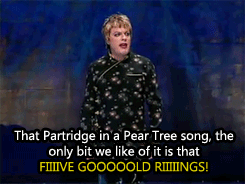 "12 monkeys mating, 11 donkeys dancing, 10 pygmies farming, 9 socks a-swimming, 5 gold rings…"
He may have a point.
As far as I know, no one really asks for 10 Lords a'Leaping for Christmas. Yet none of us would turn down the one awesome gift on the 12 Days list: 5 Gold Rings. I mean, 8 Maids a'Milking? Not in the house, dears.
A similar exclusivity exists among social media platforms. One platform and one platform only guarantees you an audience of professional users—LinkedIn. If Facebook is the shotgun of social marketing, LinkedIn is the laser-guided missile. The audience is more targeted than most other networks. On LinkedIn, you can rub elbows (potentially hundreds of thousands of elbows) with professionals, industry leaders, and business owners. You won't find teenagers here. You won't find general users. You're only going to find people in the professional community.
Most people think of LinkedIn as the platform to use when you're looking for a job, and it's good for that, but there's so much more it can do.

To use LinkedIn to market your business, begin by creating a personal profile, if you haven't already. Fill your profile out thoroughly, make sure you add a photo, and connect with as many professionals as you can. When you connect with others, the general rule of thumb is that you want to connect with people you know or have met personally—people you would recommend for a job. Think of your coworkers, people you have met while networking, the folks who make up your professional circle, people you have done business with, classmates, people you know from philanthropic work. Connect with your friends, too, of course, but don't expect random updates about their meals or children. LinkedIn is all about business and industry.
Once you have a complete personal profile, join a few groups that suit your line of work, and get active. This is where you can have social conversations with strangers and build a network of like-minded professionals from around the globe. Post updates about your industry and professional life, and participate in group conversations. Follow industry leaders to stay up-to-date with fresh information. Like, comment on, and share posts from people in your network, and watch your network grow.
Once you have a completed profile, you can create a Company Page. Naturally, LinkedIn offers help with this process, including Best Practices.  Your Page will need at least one administrator, and in the beginning, that will be you. Once the Page is live, encourage your employees to add your business to their profile. It will hyperlink to your Company Page. Once they've Followed the Page, you can add them as administrators. It's usually a good idea to have at least one additional administrator.
Fill out as much information about your company as possible, including your logo and a cover photo. If you'd like, you can create additional Showcase Pages to highlight your Company's specific practices or services.
When it comes to posting updates to your Company Page, stay focused on the intention and audience of LinkedIn. Think about what you'd like to see from the companies you follow, and offer similar updates to engage your users. Just like on other social networks, the goal is to get people linking, commenting on, and sharing your updates. People come to LinkedIn for professional information, so offer up any company news, videos, links to industry news of note, and links to your newsletters and blogs. Followers can review your company, so encourage them to do so. Make sure you respond to comments in a timely way. Build relationships.
LinkedIn also offers tools to measure engagement. Analytics appear right on your Company Page, visible only to you. If you're not seeing the engagement you want, change up your posting strategy, or consider a sponsored update. Yes, you can pay to boost an update on LinkedIn as well.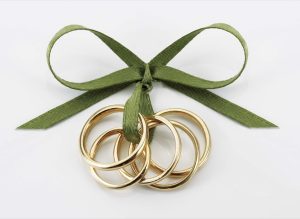 If you offer a business-to-business service, it only makes sense to have a LinkedIn company page. Don't forget to publicize it once you have it. Share links to your company page on your website, in your blogs, and in your newsletters. Ask for your fans' loyalty, and you will receive—even more valuable than 5 gold rings.
That said, you can Follow D. Cohn Communications on LinkedIn right here: http://www.linkedin.com/company/d-cohn-communications Don't forget to say hi.
See you next time for Day 6: YouTube