10 Ideas to Punch Up Your Posts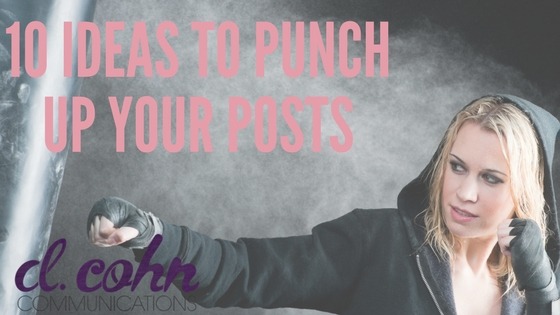 A couple of years ago, we published the following tips for creating posts for your social media accounts. We think it deserves to be revisited, and expanded a bit beyond social to include content marketing as a whole. We know many of you still struggle with what kind of content to create. So think of these as ideas for your social media accounts, blogs, videos, podcasts, etc.
One key concept that we'd like to stress is that you should always, always have your audience in mind when you're creating content. What would they most like to see, read, hear? Content marketing isn't straight advertising and shouldn't be treated as such. Content marketing entertains, educates, fascinates, and engages your followers. Dry posts about your products and services won't cut it. You're going to have to be a bit more creative than that.
Be Emotionally Engaging
Think about what makes you engage online (what do you click on, Like, read, or watch?) and try to recreate that for your audience. Show your followers the human side of what you do — the good, the bad, and the ugly. Followers want to feel something when they look at your content, so create posts with some emotional impact, whether that be humor, excitement, or exasperation. One caveat: avoid political or religious posts unless those categories are part of what you do. You don't want to cause division among your fans. Otherwise, use your content to show the real-life side of your work.
Have Fun
Content should match the tone of your business, but that doesn't have to be dry or boring. You may think there's nothing funny about your accounting business or graphic design work, but the stories you tell at the dinner table can turn into great posts. Highlight what's fun about what you do with those funny stories from your day, jokes, and amusing encounters with clients (but be nice!). Use memes to make fun of the mistaken stereotypes of your profession. Create Snaps or Stories showing your silly side. Use filters, stickers, captions, hashtags and geotags to breathe life into a photo. If it makes you laugh, let others share the joke.
Behind the Scenes
Everyone likes to see the man behind the curtain, so show us what goes on behind the scenes at your business. Visual content is great for this. Go live and show us the mess you make while working: bakers covered with flour, stockrooms full of merchandise, stacks of paper on your desk, your lucky coffee cup, the printer churning out pamphlets. All of these things are engaging to your fans, who don't see those kitchens, stockrooms, or workings of your business every day. You may take your office for granted, but we won't.
Make Mistakes
Drop a pan of cookies? Snap a pic. Computer go down? Snap a pic. Up to your rear in mud? Snap a pic. That's why we have smartphones. These "whoops!" moments may feel frustrating to you, but they'll show your followers there's a human being behind the brand who makes mistakes just like they do. Then write about those mistakes in a blog and help others avoid them.
Be Neighborly
Who do you interact with every day? Introduce us to your office staff, the Jimmy John's delivery guy, the delivery truck driver, the shop owner who stocks your products. Share the love and be grateful. That positive vibe will build good will.
Go Outside
Take this one literally. Leave the office. You don't even have to go far (although that's fun too.) Snap a pic of something that catches your eye and share it. First crocuses popping up by the front door? The construction crew you say hi to every day? Introduce us. At Kinko's for the fifth time this week? Let's see that stack of printouts. Empire moth in the parking garage? Cool. These little things all provide inspiration for communicating about your day. Whatever it is, if it makes you feel something, it'll make your fans feel something too, even if it's only tangentially related to your product or service.
Highlight Your Talents
Just because you think there's nothing social about your work, doesn't mean your followers will agree. Maybe you sit at a desk all day, but you're really good with QuickBooks? How about a blog describing tips and tricks for using it? Show us the end products of your work. Fantastic looking cupcakes, a finished floor remodel, your dual giant computer monitors, the white boards where your team plots out strategic plans. We like to know what you do and why you're good at it.
Go Ugly
On the other hand, feel free to share what makes your business hard. Have a wall of merchandise boxes to stock? We feel your pain. Fifteen orders on your line? Crikey. The visuals of these problems demonstrate the reality behind what you do and add a human element. We all have hard jobs. We get it. Go further and start a YouTube channel where you demonstrate the challenges of your work and how you solve those problems.
Channel Martha Stewart
Don't think you're creative? Nonsense. Arrange those wrenches in a circle and snap a pic. A wall of paint cans can be quite pretty. Show us a close-up of carpet samples and we can practically feel the shag. (Kidding.) Pics and videos of your products, cleverly displayed, can be irresistible. Get the employees in on the action. Create a scene and upload it to social media.
Toot Your Own Horn
If you're proud of it, your followers will be happy for you. Finish a new design? Awesome! Let's see the rolled up blueprint. The bridesmaids look amazing in their perfectly fitting dresses? Show us. A child smiling after a tooth cleaning? Great job! You won an award? Super! Whatever makes you proud of your work will excite your fans too. Feel free to tell us how you did it. Blog about your process, why you're satisfied with the end product – teach your fans what makes you special. Don't just tell your followers you're proud, show us!
Hopefully these ideas have inspired you with some fresh material. But if you're not confident in your production skills and would like to have help creating content for your website and social channels, give D. Cohn Communications a call. It's what we do!