Your Customers Are Talking About You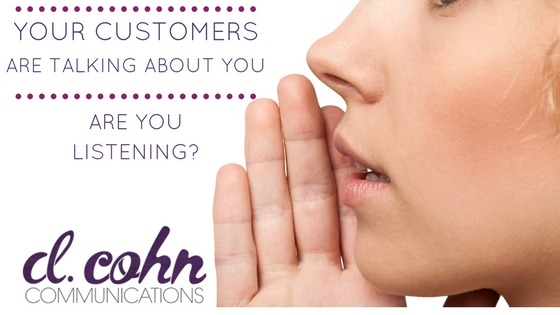 Your Customers Are Talking About You.
Are You Listening?
All year long, we have been focusing on the importance of providing a good customer experience on social media. Many digital marketing experts will tell you that the best way to build a following on social media is to post videos, to post at peak times, to ask questions. Yet, in our experience, nothing will grow your fan base as powerfully or fruitfully as providing excellent customer service via social media. Your customers have smart phones and they want to use them. They love social media, and they love telling their friends about their experiences – good and bad. When they do business with you – whether you offer B2C or B2B services – they will talk about you. Are you listening? More importantly, are you responding? You absolutely must be listening, you must be responding, and how you respond is very important.
Social Customer Service is Not an Option
Even global companies have been slow to realize the power and impact of social customer service, but as a small business owner, you don't have that luxury. Providing excellent customer service on social media is not optional. It can make or break a small company. If you get good reviews, excited compliments, or proud check-ins, those things are great for spreading your reputation online and building your fan base. On the other hand, when things go wrong (and they will!), the news can spread even faster on social media. How you respond will determine how the public sees your company and whether they want to do business with you in the future – or ever.
It's always a nice ego boost when we get positive feedback from our customers. When we get it on social media, we know that it can be seen by many people, and that makes it all the more meaningful. When someone pays your company a compliment, you must respond. Show gratitude, show appreciation, show pleasure. This is just good customer service. Not only will the original poster be pleased that you care enough to respond, but anyone else who sees that interaction will be impressed as well.
It's less fun when someone complains about your business online. That can cause a lot of anxiety, because we know, again, many people will see that complaint. So at this point, it's absolutely essential that you handle that complaint with gracious attention to providing customer service. Ignore it, and you risk having it spread out of control. Fan the flames of anger, and you risk angering even people who have have previously been fans. This can be deadly to your professional reputation.
Real-life Example: What Not to Do
Let me show you a couple of examples. Below is a screenshot from Facebook of a post by a local spa. Obviously incensed by what she felt was a fraudulent review, she took to Facebook to complain.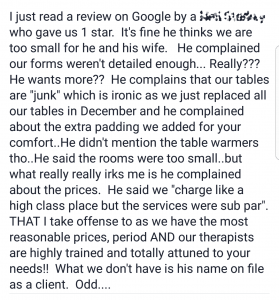 Terrible move. If the review was indeed the work of a malicious troll, it would have been better to simply ignore it. If the review was from a legitimate customer whose name simply wasn't on the books (perhaps his wife has a different last name?) this opportunity could have been used to try and save the relationship. Instead, the spa owner not only trashed the reviewer by name, they alienated even previously satisfied customers. Dozens of replies to the post accused the owner of unprofessional behavior, commented that they wouldn't come in now lest they be shamed on Facebook, and while some tried to defend the business, their voices were swallowed in the outrage.


The post has wisely since been removed, but as you know, nothing is ever completely gone on the Internet.
Real-life Example: What to Do
So what should you do when someone has a legitimate complaint? Listen, be respectful, and try to solve the problem for them. People love when companies respond to them on social media, and it's a public display of how much you value your customers. Embrace the opportunity to make someone's day. Here's an example of how that works. This customer was unhappy that a server didn't split the check at a restaurant whose account we manage. He left a negative review. After consulting with the owner, we responded that we were very sorry to hear that, that the restaurant does indeed split checks when necessary, and that we would like to know more so we could address the problem and make it right. We invited him to Message us with details. Here's what happened. (I have blurred out any personally identifiable details.)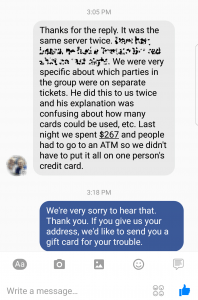 Angry Customer + Good Customer Service = Happy Customer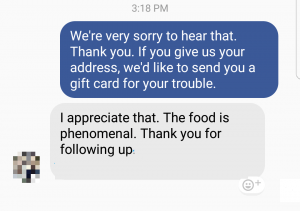 Your customers want to talk to you online. Don't ignore them. Don't berate them. Don't be afraid of them. Serve them. In the end, you have the opportunity to make the most of every online interaction. Nothing is as powerful for creating fans online as demonstrated respect for your customers. The examples I've shown here are from Facebook, which is obviously the most popular social platform and the one most often used for business marketing. But the same principles apply to Twitter, LinkedIn, or any of the others. Use a Content Management System (CMS) like Hubspot, Sprout Social, or Hootsuite to monitor conversation about your company on the Internet, and, unless the comment comes from an obvious troll, respond to everything with the absolute best intentions.