JOB POSTING: PART-TIME SOCIAL MARKETING ASSISTANT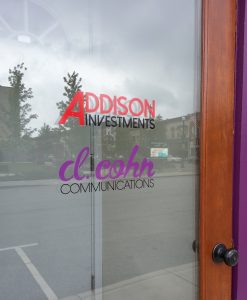 D. Cohn Communications creates and maintains top-quality, customized digital marketing resources for organizations of all shapes and sizes. We pride ourselves on our unequalled customer service and our commitment to quality, consistency, and creativity. We like to think of ourselves as left-brained artists—creatives with a mighty appreciation for raw data. It gives us the upper edge in creating accessible technical marketing tools that look and work beautifully. "Exceptional Digital Marketing For All!"
JOB DESCRIPTION
We are seeking a part-time Social Marketing Assistant to help with the development, implementation, maintenance, performance analysis, and optimization of social marketing campaigns across all digital channels. The Social Marketing Assistant will work 15-20 hours per week from our office in downtown Valparaiso, IN. Pay is commensurate with experience. She or he will primarily be responsible for the day-to-day maintenance of D. Cohn Communications' social marketing client accounts, including content creation, project planning and management, market research and analysis, and PR. Once or twice a month, a few evening and weekend hours with local travel are required for various client events.
At its core, this is a job for a particularly flexible writer and marketer who truly loves social media. If you've never maintained a Facebook Page, blog, or Twitter account, if you've never used a hashtag un-ironically, if aiming for higher hit counts doesn't excite you, if you're not a bit of a perfectionist, this probably isn't the job for you.
JOB REQUIREMENTS
To perform this job successfully, an individual must be able to perform each essential duty satisfactorily. Reasonable accommodations may be made to enable individuals with disabilities to perform the essential functions.
ESSENTIAL DUTIES AND RESPONSIBILITIES include the following:
Create and maintain top-quality cross-platform, digital marketing campaigns for D. Cohn Communications and its clients.
Platform-specific, targeted content creation for social media, blogs, newsletters, PR, websites, and more.
Evaluate data and create performance reports for a variety of platforms, including Facebook Insights and Google Analytics.
Some direct communication with clients—exceptional customer service skills are crucial.
Proactively stay up-to-date with, and implement trends and developments in digital marketing content.
Light office tasks.
Occasional event photography.
Ability to travel locally.
Ability to work occasional evening and weekend hours.
Other duties as assigned.
REQUIRED EDUCATION and/or EXPERIENCE
Bachelor's Degree in Marketing, Communications or a closely-related field from an accredited four-year college or university.
Knowledge of the fundamentals of marketing, market research, public relations, and/or media relations.
Exceptional writing and research skills.
2-5 years' experience creating a broad range of media, both print and digital.
2-5 years' experience in cross-platform digital marketing brand management.
2-5 years' experience using major social media platforms for marketing.
Basic knowledge of newer or less-commonly used social media platforms.
Knowledge and demonstrable experience with major blogging platforms.
Knowledge and demonstrable experience with email newsletter platforms.
Proven track record of timely project execution and consistent performance in a self-directed atmosphere.
Creative problem solving.
Ability to successfully work both individually and collaboratively with professionals from a variety of fields.
Professional demeanor with exceptional networking and interpersonal skills.
Knowledge of WordPress, CSS, HTML5, web programming, Photoshop or other Adobe Creative Suite programs will be a significant advantage.
To apply, visit https://dcohn.com and familiarize yourself with our company and its offerings. Email a resume and cover letter outlining how you meet our requirements to info@dcohn.com. We will continue taking applications until the position is filled – which we will announce on Facebook and Twitter. D. Cohn Communications is an Equal Opportunity Employer.