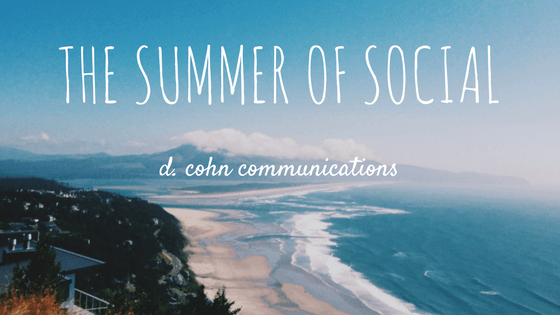 The Summer of Social
With the official beginning of summer for many local school children, most people's minds are focused on fun in the sun, vacations, and relaxation. For social media managers, however, there's always work to be done. Yes, you may find us enjoying an outdoor cafe or a day at the beach, but we'll probably be checking our phones constantly, because social media never sleeps. In the spirit of refusing to slow down just because it's summer break, the weather is beautiful, and we'd rather be sipping cocktails on the porch swing, we have some tips for keeping your social media marketing game strong all summer long. Let us spell it out for you…
S – Start Anew
With the start of a new season, now is a great time reevaluate and revamp your social media marketing strategy. Are you currently void of any strategy at all? Then start now! Are you sick of pounding away at your marketing without getting the results you are hoping for? Now is a great time to scour your insights and analytics, research best practices, and brainstorm new ideas for how to boost your social media marketing. Is all of your hard work paying off with totally rocking social media pages? Maybe now is great time to start a fresh, new campaign or think about expanding your reach to new platforms. The possibilities are endless, and with so much daylight, now is the best time to start!
U – Use Hashtags
Yes, the hashtag is still king, and, no, we don't see that changing anytime soon. If you're using Instagram or Twitter, and you're not using hashtags, then you are missing tons of growth opportunities on those platforms. Find influencers in your field, search various keywords, and investigate what the competition is doing. Create a unique hashtag for your company and be sure to use other relevant hashtags to drive users to your page. (For more hashtag tips, check out this Hootsuite article.)  If your hashtag game is strong, keep it up!
M – Manage Conversations
Summer means people have more free time. Free time means people get bored. Bored people comment and complain on social media. Ok, maybe that logic isn't 100% accurate, but we feel like it's a theory that may have some merit. We believe that the customer service aspect is one of the most important parts of social media marketing (which is why we wrote a whole blog about it), so don't let lazy summer days deter that. Continue to respond quickly to customer questions and complaints. Don't forget to thank people for positive reviews. Keep an eye on any chatter about your business. Social media marketing is a two-way street, so make it a summer goal to provide the most stellar customer service you can to your followers.
M – Move Outside
Visual media is imperative to successful social media marketing, and summer provides a beautiful backdrop that you only have access to for a few months out of the year. Unless you live somewhere like San Diego, at which point we don't want to hear from you, because we are insanely jealous. Take advantage of these long, warm, and sunny days. Take pictures of your products outside. Post a video of your employees enjoying a summer picnic. If there's a way to incorporate the outdoors into your brand, give it a try!
E – Erase Complacency
Just because it's summer and there are about a million things to distract you from your marketing plan, now is not the time to phone it in for a few months. Social media marketing is vital, so if you aren't dedicating energy or time to it or want to take a break, we urge you to do the opposite. Even dedicating small amounts of time throughout the week to upping your marketing game can be extremely beneficial (like we talk about in this blog). With the fast-paced environment that is social media marketing, there is no room for complacency, so focus your energy, work out a strategy, and…
R – Rock on!
Whether you're a novice or an expert, a marketer or a business-owner, this summer is the perfect time to totally rock your social media marketing! And if you're feeling overwhelmed or just need a little help, that's what we're here for. Give us a call or shoot us an email. Even if we're sipping daiquiris by the pool, we'd love to assist you!