The Impact of Excellent Customer Service on Social Media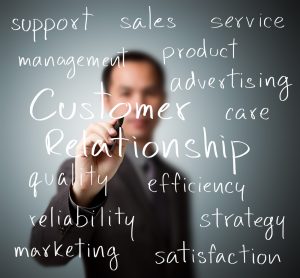 The Impact of Excellent Customer Service on Social Media
If I were going to "predict" one thing about 2017's social media marketing trends, it's that customer service will rise to the #1 spot of "things your social media marketing should be focused on." Since when is customer service a marketing tool? It becomes marketing collateral when your followers can all see, evaluate, and respond to your customer service engagements. You not only now have to conduct business with your followers on social media, you are also being judged for your online customer service, so it better reflect the excellence of your brand.
I compare this with a customer eating dinner in a restaurant. His food comes out cold and he's angry. Before social media, he would ask to speak to the manager. The manager would come out, they would have a conversation, and the man would leave – satisfied that his complaint had been well taken care of and willing to return, or not. Maybe the other customers in the restaurant could overhear this interaction between the customer and manager but probably not. It was a reasonably private conversation and ultimately, only the angry man had an opinion about whether he'd been treated well.
Now, that angry customer will hop on social media, maybe before he's even left the restaurant, and leave an ugly complaint or review. This is akin to the man standing up and shouting that his food is cold so that everyone in the restaurant can hear him. He doesn't ask to speak to the manager, but he's eager to get everyone's attention. The manager still has to come out and speak to the man, but now everyone in the restaurant is watching how this situation shakes out. The manager doesn't only have to placate the angry customer, but prove to all those watching eyes that he cares about his customers and wants to make them happy. How the manager handles this situation affects the opinions of dozens of people.
This may seem like an overwhelming responsibility, yet the ability to provide great customer service via social media is an opportunity to advertise something extremely important about your brand – the fact that you are attentive, take customer questions and concerns seriously, and are responsive. Nothing – not the type of posts you make, not how often you post, not how many platforms you use – nothing will make a greater impression on your followers than how you treat your customers online.
Kathi Kruse compiled some interesting statistics in her article "10 Flaws That Undermine Your Organization's Facebook Page," on Ragan.com. She notes that customers seeking to interact with brands online is rising exponentially, especially among tech-savvy Millennials, and those customers expect responses. Quick. She says:
 "71 percent of consumers who experience positive social media customer care are likely to recommend the brand to others, compared with just 19 percent of customers who do not get a response. (Sentiment)
 Today's tech-savvy consumers want their online questions to be addressed promptly; 42 percent expect a response within one hour. (Gigya)
 33 percent of users prefer to contact brands via social media rather than by telephone. (Nielsen)
 83 percent of respondents in a recent survey said they liked—or even loved—when a company responded to them on social media. (Convince and Convert)"
The expectation is that if you have social media accounts, those are acceptable ways to communicate with your business or organization. If someone has a question, they are more likely than ever to post it onto your Page or Tweet you instead of call. If you have social media accounts, you will get questions and comments on your posts, direct messages, reviews, check-ins, and more. As she points out, many of those consumers "expect a response within one hour." That may seem impossible or irrational to you, but that's the new normal. You have to have a system in place to accommodate that, or risk being seen by everyone following you as a company that doesn't take customer service seriously. If you are not monitoring your accounts around the clock, you're going to miss the window of opportunity to respond. The absolute worst thing you can do is ignore all these engagements. If you truly want social media marketing to work for you, you must respond, and as quickly as you can.
Social media marketing is ultimately a two-way conversation, and it's imperative that you grab every opportunity to take part in that conversation. Even angry comments and reviews can reflect positively on you if you respond well. Every positive interaction you have with a customer or potential customer online leads to more business, not just with that one customer, but with all the other people who see your interaction. You're not just making an impression on the one person you're conversing with, but on the many watching.
If you need help monitoring your accounts around the clock or knowing how to respond to negative interactions online, give D. Cohn Communications a call. Our social media management plans all include around-the-clock account monitoring and exceptional customer service on your behalf, and we'd be happy to help.