Social Media Marketing 101: Creating Effective Posts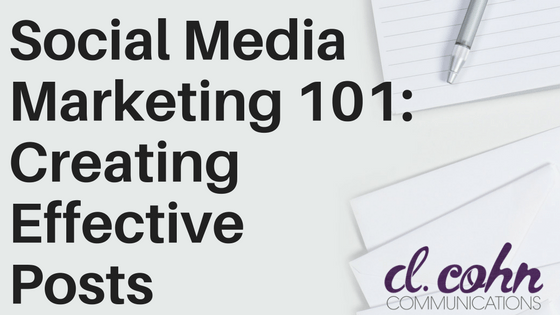 Social Media Marketing 101: Creating Effective Posts
When you're just starting out with social media marketing, you may be tempted to fill your social media accounts with random content just to have posts. Perhaps you don't have a background in marketing and aren't sure what will make effective posts. Perhaps you aren't sure what's interesting enough about your company to post on social media. Perhaps you're not much of a writer or photographer and don't have much confidence when it comes to creating your own content. Today, we're going to cover some of the basic concepts of content creation for social media marketing. We'll cover content creation for blogs, video, email marketing, and white papers in future posts.
Start With A Plan
I know we harp on the necessity of planning out what kind of content to post, but it's really that important. If you go blindly into posting for your company without a plan, you're more likely to resort to meaningless "filler" posts like memes, quotes, or clickbait that really won't do much to market your business. Sure, folks like to see those things in their personal social media feeds, but when it comes to marketing your business, you should use them sparingly and very intentionally.
Instead, take the time to plan out what you want to communicate about your company to your followers. If you're a restaurant, you probably want to highlight your food, atmosphere, and customer service. If you're a printing company, you probably want to highlight the quality of your work, the variety of your work, your speed and your reliability. If you're an IT company, you'll probably want to highlight your technical expertise, your responsiveness, the variety of your service plans, and your commitment to getting the job done right.
Spend some time thinking about what qualities define your company, what makes your company better than its competitors, and write these qualities down. This is the seed of your plan, and will help guide what kinds of posts you will make. Next, think about good ways to communicate those qualities and make some notes. What topics come to mind? What do you want to say to your current and future clients?
Voice and Tone Are Important
Another element to think about when you're planning content is voice. What is the tone of your business's public persona? This is usually communicated in your branding and in how you interact with your clients. For example, perhaps your business has a lighthearted tone, communicated by your quirky logo, punny catchphrase, and warm, welcoming persona. Another example is a serious, corporate persona. Is your logo no-nonsense and professional? Do you wear full business dress when meeting with clients? Does your office have a clean, corporate feel? Another example is an artistic persona. If you have a creative business, you no doubt have a unique and eye-catching logo, you foster a creative atmosphere at your office, you may have a sense of humor in your branding and dealings with customers.
Your social media posts should reflect the voice and tone of your business. If you have a lighthearted tone, then your posts should also be lighthearted, but still professional. If you're more buttoned-up, then you'll want to avoid silly or unprofessional posts. If you're artsy, you will want your posts to reflect that. Stay focused on what your audience wants to know about you and communicate that to them with posts that match the voice and tone of your business.
Consider the Visuals
Social media posts need to be highly visual. People respond better to posts with images on both Facebook and Twitter, and other platforms like Instagram, Pinterest, and Snapchat are entirely visual. This can be more challenging for some businesses than others. Obviously restaurants have plenty of enticing visuals to choose from. But printing companies? IT companies? This is where you have to consider your audience: your current and future customers. Remember, this is marketing. The point is to get new clients and develop loyalty.
But never fear! You have plenty of things to photograph and video right under your nose. What seems ho-hum to you isn't necessarily ho-hum to your audience. The tools of your trade might not seem particularly interesting to you after you've been looking at them for years, but they can be fascinating for your audience. One shirt printing company I know will post photos and videos of projects coming off the printers, the wall of inks, paints and dyes they use, the enormous size of their workshop, former projects hung on their walls, the employees at work. I love seeing these posts. They speak to the professionalism and talent that goes into their printing and their pride in their work. A great strategy for visuals is to take your audience behind the scenes and show them what makes your business unique.
What Not to Do: An Example
As I said, when you're lacking inspiration for posts, you may be tempted to post memes, "clickbait" articles, or fancy quotes. This is fine occasionally, but make sure the memes and quotes match the subject, intent, and voice of your business. These filler posts should still say something about your business.
Here's an example: A different printing company I know recently posted a viral video of a printer exploding. This is NOT an image that conveys professionalism or will likely inspire confidence in their customers. No doubt it was posted with the intent of amusing followers. While it's true that it may catch folks' attention, is it good marketing content? Not really. When I choose a printing company, I don't want to think about printers catching fire and exploding, no matter how humorous the intent.  Not only that, but the tone of the company is not humorous. That's not to say that the folks who work there don't have senses of humor, just that the company image is not humorous. They are a long-established local business, very professional, and focused on producing quality work, fast. An exploding printer says absolutely nothing about what makes this company great. There are plenty of more interesting things to say about this company – maybe less fiery, but more relevant.
So don't post without careful consideration of the marketing impact of your content. Don't take shortcuts by reposting random internet memes or videos. Consider who your customers are and what they want. And don't skimp on using original, creative visuals that actually say something about your company, in a voice that matches your business's persona, in a way that is going to draw your clients' attention.
Have questions? Want help? D. Cohn Communications is happy to lend a hand. Give us a call or drop us a line at [email protected] and tell us what you need.