Social Media Contests to Avoid (and Some to Try)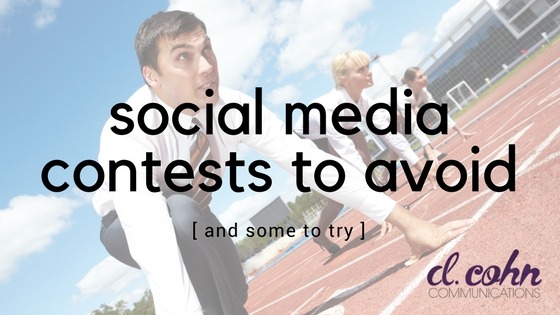 Social media contests are a great way to grow and engage your following and drive leads for your business. There are fun ways to structure a contest and build excitement for your brand. However, there are pitfalls to avoid when running a contest on your social media accounts.
The Like and Share Contest
One popular social media contest offers a gift card or some other service or product in exchange for Likes and shares or tags on a post. This looks something like this: "Like our page and share this post to be entered into a drawing for a gift card." Similarly, "Like this page and tag one of your friends to be entered into a drawing for a gift card." So simple, so easy, and it works to grow your page's Likes quickly. However, take a look at the social media platform's Terms & Conditions before you conduct this contest. For example, it violates Facebook's Terms & Conditions.  Facebook's T&C for Promotions specifically says:
"Promotions may be administered on Pages or within apps on Facebook. Personal Timelines and friend connections must not be used to administer promotions (ex: "share on your Timeline to enter" or "share on your friend's Timeline to get additional entries", and "tag your friends in this post to enter" are not permitted)."
While this type of contest may seem innocuous enough, and while it may seem harmless to tempt the Facebook gods, that's really not a good idea. If you are caught, you risk having your page suspended or taken down permanently. That could be quite damaging. (You can read the entirety of Facebook's Terms and Conditions for Pages here.)
In the same vein, asking folks just to Like your Page to be entered into a contest is allowed, however, you should also know it can be tricky to find a list of everyone who's recently Liked your Page. Facebook doesn't always show you a complete list of new followers, so it's best to assume you aren't seeing everyone. Thus your contest will be skewed.
Conduct this contest type on another platform like Instagram, where it is not forbidden. All Instagram has to say about it is "You must not inaccurately tag content or encourage users to inaccurately tag content (ex: don't encourage people to tag themselves in photos if they aren't in the photo)."
Check Ins, Photos, and Email List Contests
If you're trying to specifically increase your following on Facebook, a better idea is to ask people to "Check In" to your business or post a photo of themselves interacting with your product. For example, "Check in to our shop and be entered into a drawing …" or "Post a photo of what you ordered at our restaurant when you come in this week and be entered into a drawing…" (To do this, make sure you've enabled people to post to your Page.)
These options work better anyway, because when people check in, it's generally shared with their friends by Facebook. You aren't asking them to share the post, but it happens automatically. Likewise, original photos tend to be appealing, and your followers will respond to them. Say you'll award the gift card (or whatever your prize is) to the photo with the most Likes, and those followers will ask their friends to Like the photo. Again, you haven't directly asked them to share anything, but they'll do it on their own. Another plus to these formats is they're easily trackable. Facebook will definitely show you everyone who's Checked In and posted to your Page.
Another idea is to ask people to sign up for your newsletter to enter the contest. Share a link where your customers can sign up. This will not only promote your social media account, it will result in more leads for your mailings.
Begging for Reviews
Another contest we often see is "Leave a review and be entered into a drawing for a gift card." Facebook doesn't explicitly forbid this, but Google and Yelp do. This one is dangerous.
"Reviews are most valuable when they are honest and unbiased. If you own or work at a place, please don't review your own business or employer. Don't offer or accept money, products, or services to write reviews for a business or to write negative reviews about a competitor. If you're a business owner, don't set up review stations or kiosks at your place of business just to ask for reviews written at your place of business."
This contest can be really damaging because the LAST thing you want is for Google to demote your website in search results. That could be flatly disastrous.
Yelp's Terms & Conditions say not to "violate our Content Guidelines…by writing a fake or defamatory review, trading reviews with other businesses, or compensating someone or being compensated to write or remove a review." If you're in an industry driven by reviews, having your account disappear from Yelp could seriously damage your traffic.
Again, it's not worth tempting the powers that be just to motivate people to leave a review. Earn those reviews through amazing products and customer service. They'll be more meaningful. And let's be honest, begging for reviews just looks desperate.
A Few Other Contest Options
It is possible to run great contests on social media, you just need to get creative. Some great contests we've seen recently include one where a popular seasonal restaurant asked people to Like a post, and if 10,000 people Liked it, they would open early for the season. This worked beautifully. Fans of the restaurant shared the post widely without being asked to. This could have worked on Facebook, Instagram, Twitter…wherever the business had a big following.
Facebook has also added a Poll tool in which visitors can choose between two options. You can add photos or GIFs to the choices. This is a fun way to get your fans to engage on your page and draw new fans. Choose your winners among those who respond to the poll.
Twitter offers a similar option.  You don't even need to give away a physical product. People love to add their opinion to a poll. It's interactive and fun. Ask people to vote and then follow through on what they vote for.
A really fun example of this recently made the news. SUE the T-Rex at the Chicago Field Museum asked followers to vote for what action they wanted the t-rex to take next. Thousands of people voted for her to pick a fight with another popular Twitter user. She chose the widely-followed and equally snarky Merriam-Webster account, and a very funny, friendly Tweet war ensued. The exchange made national news. You can't ask for better exposure than that.
Instagram contests are fun too. On a feed post, ask followers to tag their friends in the comments of a post and choose your winner from the entries. You can also create a poll in an Instagram Story. Again, choose your winner among those who respond. Remember Instagram Stories disappear in 24 hours, however, so keep an eye on those entries.
Contests are a great way to develop engagement and loyalty on social media, and can be a terrific source of new leads, but they shouldn't be conducted without a little research. First, check the Terms & Conditions of your platform, then look into some best practices for what works on that platform.
If you've found this helpful, hooray! If you'd like more in-depth advice about using social media for marketing, drop us a line or give us a call. It's what we do.
Note: this post has been updated to include new platform options.