Promote Your Holiday Events with Facebook Marketing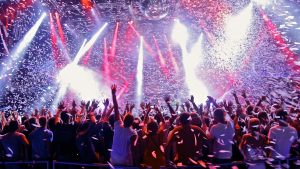 Recently I found myself in charge of promoting a large, local, annual winter festival. The budget I was given for promotion was nearly $700, based in large part on previous years' print advertising spending. Obviously, I knew better. The festival director trusted me when I said we'd use only a fraction of that by advertising almost solely on social media. Three print media outlets came knocking, hoping for repeat business with our event advertising, but I turned them all down. I was determined to save us money.
Understand that I don't deny the necessity of print marketing, and ordinarily I recommend a combination of print and social advertising. But I don't believe all print mediums are created equal, and I know what a worthwhile return on investment looks like. I need to believe that a print ad is going to get in front of enough eyeballs to be worth the hundreds of dollars it costs to pay for print advertising space.
So did social advertising work? Boy howdy, did it! I spent $35 on Facebook event promotion and that's all. I ran one print ad, thanks to an in-kind sponsorship from a large news outlet. I skipped the expensive, small-run specialty publications. And the return on investment? Our event attendance grew 40% from its previous all-time high.
So how does social advertising of an event work? Start with Facebook. From there you can cross-post onto other social platforms. Here's the how-to, step by step:
About two weeks before your big day, create an "Event" on Facebook. Make sure to completely fill out the form. Include a perfectly sized, engaging cover photo. You can find the appropriate size with a simple Google search. Remember not to put much text on this photo or Facebook won't allow you to pay to promote it. Your photo can be no more than 20% text. Facebook is pretty strict about this rule.
Create a compelling event description. Yours is the event of the season and needs to be sold as such. Write a description that details all the fun people will have at your event. Give all the pertinent details: who, what, where, when, and why.
Invite your personal friends using the "Invite" button. This is important. It jump-starts the viral process. If you're not the only moderator of your page, ask your co-moderators to invite their friends too. Aim to invite at least 100 people, but the more the better. These friends are going to help you promote your event, even if they don't know it.
Watch as your friends respond to the Event Invite. They will select "Going", "Interested", or "Can't Go." If they are "Going" or "Interested," Facebook will continue to show them updates to the event as the day gets closer and remind them on the big day. Not only that, when they respond positively to the Invite, Facebook will show their friends that they're interested in your event, and you will get more exposure that way. You can also personally ask them to invite their friends or share the event as well, and soon enough you'll have hundreds of invitees, and every one of those people will give your Event more screen time just by responding to the Invite.
Post updates on the Event page. Post teasers and photos to tempt people to join you. Every time you make a new post on the Event page, all those who have responded positively will get a new update in their feed again, encouraging them to Like your new post and jump the event to the top of their Feed. Again, their friends may see this as well.
About a week before your event, pay to promote it. All you need is a $5/day targeted promotion. Set the geographic area you're targeting and keep it specific. If necessary, set the age range, and possibly list relevant interests if your event will only appeal to people with select interests.
Once your promotion is approved, Facebook will begin showing the Event in new people's feeds. Many of these people will respond to the event. They will choose "Going" or "Interested" if they're intrigued, many will tag friends in comments if they know someone else who would like to go, and many will share the Event on their own feeds. In this way, you can quickly reach thousands of people.
Continue to regularly write new posts on the Event page. Keep the updates relevant to people who are interested in your Event. Track comments people make on the Event page and respond to questions. Again, every time you post in the Event, those who have responded to it get a fresh reminder.
Just by doing these things, our Event reached nearly 60,000 people and elicited over 3,000 responses. Note that these results are well above average. A lot depends upon how deeply interested people are in your event and how wide an appeal it has. Still, I share this with you to demonstrate that by using Facebook's Event feature and taking advantage of the viral nature of shared and promoted social media posts, you can reach thousands of people at a fraction of the cost of print advertising.
If D. Cohn Communications can help you make the most of social media marketing, give us a call. Thanks for reading, and Happy Holidays.