Managing Change with Social Media
Change is bound to happen in your organization. Whether it's small changes, like a new employee or a new menu item, or big changes, such as a total restructuring of your business, change is an inevitable and unavoidable aspect of business (and life, for that matter). Tons of books have been written and research has been done by organizational psychologists and business experts on the the topic of change management. (See John Kotter's book, Leading Change, for my personal favorite.) What you might not find in most of the literature, however, is how to manage your social media accounts during these changes. No need to read a whole book or find as many peer reviewed articles as you can on the subject. We're here to give you a quick guide on getting the most out of your social media while undergoing organizational changes.
Be Transparent
If the changes occurring at your business are going to affect your customers, tell them. Good social media maintenance involves creating and maintaining relationships with your followers, and the first step in building any relationship is establishing trust. Your supporters can't trust you if you aren't honest with what's going on in your business. Be totally open about the changes that will occur. Communicate these changes as soon as possible. Don't let someone else scoop you- your customers deserve to hear what's going on directly from you. Explain to them the reasons behind the change, the steps that will be taken to make the change, and what you're going to do to facilitate that change. The more transparent you are about everything, the more trust your customers will have in your business and the change that's about to take place. Whenever Facebook makes yet another change to the News Feed, it's the end of the world to all Facebook users. But it's not. The world keeps turning, because the powers that be at Facebook explain the changes, why they are happening, give tutorials on how to make the changes work for its users, etc. You've spent a lot of time building rapport with your social media followers. Don't ruin that by dishonoring their trust in your brand.
Communicate
If you've ever read any literature about change management, a constant theme is communication. Communicate to your employees, your customers, your board, and so on. Obviously (I hope), that is no different from how you manage your social media already. We love social media, because it gives us an opportunity to communicate to a large number of people relatively easily and cheaply. Use that. Post it. Tweet it. Boost it. Snap it. Do it all. Create a plan for when and how you're going to communicate the changes to your followers. Schedule your posts at times that will reach the most people. Boost your post if you truly want to get the most out of your reach. Once you've initially posted, then keep your audience informed. Are there major renovations happening? Post pictures of the process so your followers feel they are a part of it. Are there new people in management? Write a blog introducing these key figures so your audience can get to know them. The more you communicate, the more involved your social media fans will be and, thus, more accepting of the changes that are occurring.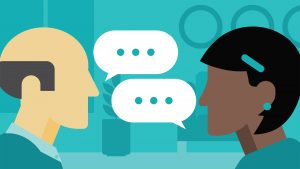 Moderate Discussion
That communication goes both ways, people. That's the beauty of social media marketing. Gone are the days when marketing was a one-way street. And guess what? Change makes people talk, especially the people who are unhappy with the change. Are you taking away everyone's favorite menu item? People are going to let you know they aren't happy about it. Is a major restructuring forcing you to let go a number of people? People are going to let you know they aren't happy about it. This dialogue is inevitable, so do something about it. Engage with your followers. Address their concerns. Answer their questions. Empathize with their disappointment. You can't control people's reactions, but you can control your response to them, and doing so in a thoughtful, understanding way will mitigate any repercussions the change may have on your brand.
Be Prepared
Know that backlash is possible and likely. The more prepared you are for this inevitability, the more timely and helpful your responses will be. Before announcing the change, think about what may upset people and why. Then, construct an appropriate response to each of those concerns. Be sure to get all members of your social media management team (whether internal or external) on board with your plan. Not only will advanced preparation make your lives easier in the long run, your well-thought-out responses will lead to better communication and trust with your followers, which, as we mentioned earlier, is the cornerstone of relationship-building on social media.
"You can't control people's reactions, but you can control your response to them."
Keep Them Informed
Finally, be sure to continue communication with your audience well after the announcement of your organizational changes. You've made the decision to include your fan base in these changes, so keep them involved. Give them updates on the changes. Provide any helpful information that will make transitions easier for them. Continue the discussion for as long as your audience needs. These relationships are not short-term, so don't treat them as such. And if your changes are going to have long-term consequences for your customers, be sure to stick with them for the long haul. If possible, include them in small parts of the decision-making process. Host a poll to get their opinions on possible changes. The more people feel included and valued, the more positive their responses will be to your decisions.
Above all, it is absolutely imperative that you put the time into your social media marketing during periods of change. Now is not the time to check out, although you may be busier than ever. Is it going to take work? Yes. But it will make a world of difference in how your customers feel about you and your brand, which will absolutely affect your bottom line. And if that seems like just too much for you to handle right now, then give us a call. That's what we're here for.