Keep the Hits Coming to your Facebook Page
You may have seen the panicked posts on Facebook, claiming that without paying to Promote them, small businesses' Page updates will disappear from users' News Feeds. This isn't quite true. Facebook has changed the way it selects which posts show up in which users' feeds, but that doesn't mean free business posts are gone forever.
Facebook's changes are meant to ensure users see the updates they're most likely to engage with. The program examines Pages and posts for key data and matches it to users' interests, friends, past Likes and Comments, and locations. As Facebook rolls out its new Graph Search, these changes could become useful for local businesses who want to target their Facebook marketing more effectively.
In the meantime, here are essential tips for making sure your business's posts reach your fans:
Put Your 'Basic Information' to Work
Update your Basic Information right now. Pull down the "Edit Page" tab at the top right, choose "Update Info," and make sure all the fields are completely filled in. This page provides much of the data Facebook considers when matching posts to user feeds, so fill it out completely and keep it up to date. If you're a local business, make sure you enter a complete address. Location will be a key factor in Graph Searches. Use those description boxes to highlight your services clearly and concisely. Think 'keywords.'
Keep Your Posts Fresh
An important facet of the new organization is how many people like, comment, or share your posts (and how many of their friends do). So avoid "canned" content and keep your posts current, personal, and relevant to your clients. Think about what posts you "Like" on your personal feed and try to emulate those posts in a way that's appropriate to your business. Don't let your page go stale – stay connected.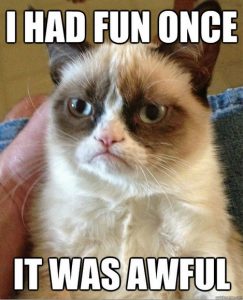 Keep Your Posts Pretty
If you have a grumpy cat lying around, you're golden. I'm only half joking. People like pictures, so Facebook recognizes when post has a picture or video attached, and favors visual posts. In fact, the fewer words you use, the better. Facebook also recognizes whether you are posting an image to your page or sharing it from someone else's, and it favors when you post your own.
Play Well With Others
Don't be shy. Social media is a medium for conversation, not for one-way ad-speak. Facebook favors the chatty, so get personal and start talking. To get your posts into more people's News Feeds, find ways to interact with your customers, colleagues, and community. Share and comment on the posts of high-visibility organizations, businesses, and community leaders. Be genuine and open, and they'll return the favor.
This post originally appeared on ValpoLife.com. Have more questions about using social media for marketing? (Of course you do.) Give D. Cohn Communications a call at (219) 309-9726 or drop us a line at [email protected].