Handling Online Complaints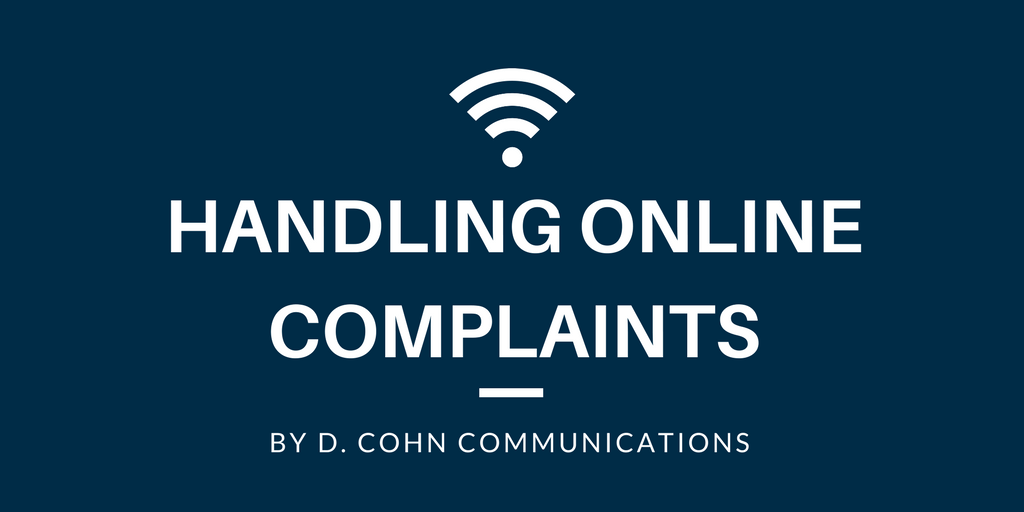 One of the biggest advantages of social media marketing is the ability to conduct a conversation with your audience. You can reach out to your customers 24 hours a day, 365 days year, and they can do the same. That being said, your company is now also open to receiving complaints at all hours of the day (and night). While some may look at this as a drawback to social media marketing, we see it as a unique way for your business provide excellent customer service and engage with your audience in a way that is impossible with more traditional forms of marketing. How you handle this negative feedback, however, is crucial to your success and must be handled with care. To learn how to make the most out of a bad situation, keep reading.
Be Prepared
While launching or retooling your social media marketing, devise a plan for how your company plans on handling complaints. Complaints are going to happen, especially in C2B businesses, so being prepared ahead of time puts you one step above the rest. Who's going to respond to the complaints? Whether you have a social media consultant or an in-house manager, assign that role ahead of time. How are you going to respond? Work on some scripts now that can be edited for specific situations. By taking the time now to plan ahead, you will be more prepared for negative feedback and able to respond quickly, which leads to our next point…
Be Timely
Immediacy is key to pretty much every aspect of social media marketing. This is the reason Facebook has a nifty little icon that tells followers how responsive you are. We can't stress enough how important it is to respond to complaints quickly. The longer a complaint sits without any response, the more disgruntled that customer is going to become and the more other people will view it and wonder whether your customer service is lacking. Recently, one of our clients received a rather scathing criticism on Facebook late one Friday evening. Within minutes, we spoke to the owner, replied with an apology, and offered the customer a gift card for her troubles. She was very impressed with the timely response and stated that she would definitely give them another try. What could have ended with at least one lost customer, ended, instead, with a positive interaction for everyone involved.
Accept Responsibility
Most customers who leave negative feedback are just looking for a simple apology. Simply acknowledging the issue and apologizing is often enough to turn a disgruntled customer into a returning customer. We often see companies reply to online criticisms with a defensive tone, and those exchanges never end well.  Instead, it's important to accept responsibility and inform the customer (and everyone else on social media) what you are going to do to solve the problem. Now, before you say it, we know that internet trolls are alive and well and love to complain on social media, but we'll address that a little later in the blog.
Take the Interaction Offline
Some situations may need more intervention than a simple public apology. Whether you need to learn more about the problem or you simply want to mail the customer a gift card, you may find it best to continue the conversation offline. Before doing so, however, be sure to publicly respond to the complaint. For example, the following response will suffice: "We are sorry for your trouble. Please call our manager at 555-5555 so we may rectify the situation." This gives you the opportunity to delve more deeply into the problem at hand while providing above-and-beyond customer service. The customer's feelings will be validated, and you can use this as a learning experience for you and your employees.
DO NOT Ignore or Delete
Let me repeat that in case you didn't quite get it. Do. Not. Ignore. Or. Delete. Yes, social media makes it almost too easy to control the content on your page, and what may seem like a simple solution is almost always the wrong one. By ignoring a complaint, you are showing that customer and anyone else who follows you that customer service is not a priority for your company. And if you think that deleting a comment will delete the problem, think again. A simple deleted comment can snowball into a much bigger problem once the customer recognizes the slight and decides to take further public action. It's also important to remember that a lot of things can't be deleted. Somebody mentioning your horrible service in a tweet? Can't delete it. Somebody leaving a 1-star review on Facebook? Can't delete it. Nobody likes dealing with this kind of feedback, but it's what you sign up for when you decide to utilize social media marketing, so it must be dealt with.
The Exceptions
With all of that being said, there are always exceptions to every rule. Remember those trolls we mentioned earlier? Yeah, they are the bane to every social media manager's existence. Customers tend to be way nastier online than they would ever be in-person, so be prepared for unruly, sometimes ridiculous complaints. So how do you handle a troll? If their message includes profane or harmful language, then, by all means, delete and block them. It's very difficult, however, to get Facebook to delete a review for such reasons, but you should definitely try. If it can't be removed, you can construct a tasteful reply or simply ignore it. Most of your followers and potential customers will recognize the difference between a troll and a reasonably unhappy customer. You may also find yourself in a situation where, after further digging, the customer is just plain wrong. While we understand the importance of customer service, we also stress the need to trust and support your employees. If this is the case, it is crucial that you respond to the customer civilly, and we strongly suggest you take this interaction offline.
How you handle online complaints says a lot about your company and its customer service. Your response to negative feedback on social media will not only affect the person who is complaining, but each and every person who happens to see that comment, tweet, or review. This is not a matter to take lightly, and it is a necessary part of managing social media accounts. With proper management, however, these interactions can be used to develop better relationships with your audience and as a learning opportunity for you.