Getting Started on Your Business Page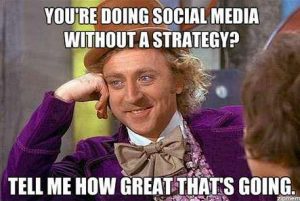 Social media can be a great asset to a business, but it can also be overwhelming when you don't have much professional experience with it. Sometimes the most difficult part of creating a page is deciding how to organize it and what to post. The most important thing to remember when using social media is to tailor your pages to your business. The first steps in creating your social media page are brainstorming and research. These two steps are the foundation to creating a lasting and meaningful presence online.
Brainstorm– When creating a social media page for your business, begin by thinking about what you would look for in a business. If you want to create a Facebook page for your restaurant, consider what you would want to see on a restaurant page, including: specials, upcoming events, and pictures of delicious-looking food. Chances are, what you would want to see on that page is what your clients will be looking for as well. Next, think about what makes you different. What makes your business special?
Research– After brainstorming, the next step is to do a lot of research. This means looking at the pages of other businesses to see what their strategies are. It helps to see what other companies have done well, or not so well, so that you have a basis for where to start your page. Once you have a few ideas from other business pages, again think about what you could do differently. If you create a page that resembles every other social media page in your industry, your page is going to be lost in the millions of other pages online. Why should a client choose you over the many other businesses in your industry?
Get Started– The next step is to just get started creating your page. As you experiment with different ideas, you will begin to see what works and what doesn't. The best strategy when using social media is to start with a foundation of research and be flexible with your work. Certain ideas may not work, and you have to be willing to change things if they aren't working for you. This is not a quick process; it will take time to learn what works and build a following. Just be patient and keep working at it.
At D. Cohn Communications, we use our knowledge of this process to create successful pages for our clients. Feel free to contact us for help with your business pages. 219-309-9726 or info@dcohn.com.