Four Social Media Marketing Misconceptions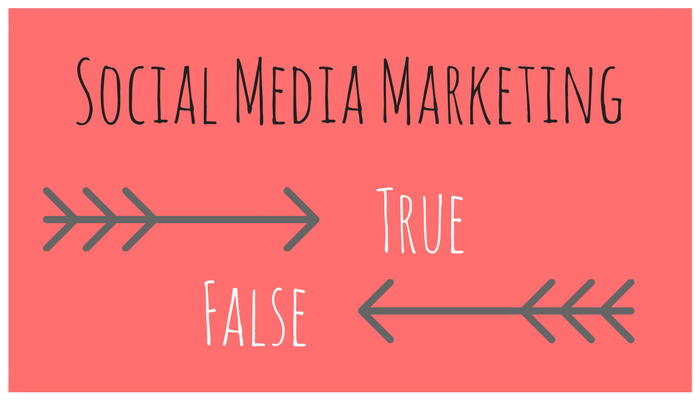 Four of the Most Common Social Media Marketing Misconceptions
Despite the fact that social media marketing is everywhere, some misconceptions about it linger. Experience tells us that our clients are still confused about some of these points, and we'd like to help set the record straight.
It's Free
While it's true that social media accounts are free, most social media platforms have recognized the economic value of social media marketing and have tweaked their algorithms to encourage businesses and organizations to pay for decent exposure. It's true that the power of word-of-mouth can drive some wonderful kismet moments of viral activity on social media, but by and large, without at least occasionally paying for exposure, your posts are unlikely to reach even the majority of your followers, let alone people who don't follow you. The good news is that for most social media platforms, it's still relatively inexpensive to pay for social media promotion compared with print or broadcast media. You can get a lot of bang for your marketing buck if you carefully plan a managed promotion on social media. Be strategic about your paid social media marketing campaigns, think through your objectives, create content that will interest your followers, and use the platform's targeting tools to help you reach exactly the right people. If you don't know how to create a targeted marketing campaign on your own, you'll need to pay professionals to create one for you.
In addition to the cost of promoting your business on social media, there's a cost for content creation. If it's done in-house, you're either paying your employees to make your social media posts, or you're paying for the time you've allotted to make the posts yourself–as opposed to the time you could be spending working on what your business actually does. In the event that you don't have an in-house marketing professional, you may be paying an outside company to maintain your accounts for you as well. In any case, the accounts don't maintain themselves, and you're paying to have your social media content created.
It's Easy
Social media marketing is still marketing. It requires careful strategizing, planning, and execution. It requires intentional content creation that is creative, engaging, and exciting. Your content has to be consistent with your current branding standards, marketing objectives, and target audience. You must take tone and voice into account. You want to vary the kind of content you create, mixing up post types and evaluating what works best: product messages, photos, video, links, etc. You'll need an editorial calendar to plan out what to post and when to post it.
Social media marketing metrics are available for most platforms – some more robust than others – but the data can be presented in a jargon-heavy, non-intuitive format. It needs to be regularly evaluated to gauge the success of your marketing efforts and determine consistent growth. Learning how to read these metrics can be daunting and time consuming for some.
It's also important to remember that social media has grown into a major tool for customer service. Your customers will reach out to you via social media, and you must be listening and respond – even at odd hours. Social media marketing does not have a 9-5 schedule. You have to be ready to answer questions, concerns, and complaints, even if it's 8:00 pm (or later.)
Social media marketing isn't easy. Sure, you can do the absolute minimum required and go at it haphazardly, but you're unlikely to see growth, momentum, or return on investment if you do. And if you ignore customer service inquiries, or don't respond in a timely manner, you're likely to lose customers.
It's Fast
Many small business owners set up social media marketing accounts with the belief that in no time at all they'll have a large follower base, lots of online interaction, and increased visibility. This simply isn't how it works. Building a social media following takes a significant amount of time – sometimes years – and hard work. The quality of your social media posts will help your account grow. If you're posting content that actually engages followers, they'll comment on and share your posts, but it takes a while to be discovered and followed in the first place. Paying to promote your accounts will help. Interacting with other online entities will also help. Encouraging influencers to share your accounts and posts will help. None of these things will make your account grow overnight, though. Patience is key.
Creating the posts for your account takes time as well. Sure, it's possible to maintain a social media account with a quick post once a day. You're unlikely to see good results if you do this, though.  Real creativity takes time. Whether you're writing, taking pictures, shooting video, creating graphics, or finding material to share, you'll see much better results if you're careful and thoughtful about what you post, tailoring it to engage and intrigue your audience. You do want to appear spontaneous and up-to-the-minute, but you don't want to look haphazard either. Craft your content to delight. Take the time to do it right.
Don't forget the time it takes to collate and analyze data, too. Factor that into your time budget as well. Knowing how well your accounts are doing and what is drawing visitors to them is crucial to maintaining a strong social media marketing presence and getting a decent return on investment.
More is Better
We have all seen social media accounts that post several times a day, all day long. Unless you're a celebrity or high-profile personality, this strategy will likely backfire. In most cases, people find this annoying rather than helpful. We don't want our feeds filled with endless quotes and links to irrelevant articles. It feels spammy rather than engaging. On some platforms like Facebook, once you make a new post, your old posts stop being shown in news feeds. The more often you post, the shorter the half-life of your previous posts. People won't even have the chance to see your old posts before you've posted the new one. How will you know if you're posting too often? Your posts won't get any engagement and few views. If you're posting all day long but no one is responding, dial it back. For a small business, 3-4 times a week on Facebook, LinkedIn, or once daily on Instagram is ideal. More often on Twitter is acceptable since feeds go by so fast anyway. Regardless of the platform, make sure your content is interesting and engaging to your audience, or it won't matter how many times you post, no one will respond.
If you're still working to make the most of your social media marketing and have lingering questions, we're happy to help. Whether you're looking for someone to help maintain your accounts or train you and your staff on best practices, D. Cohn Communications is here for you. Just drop us a line: [email protected].