Five Ways You're Sabotaging Your Social Marketing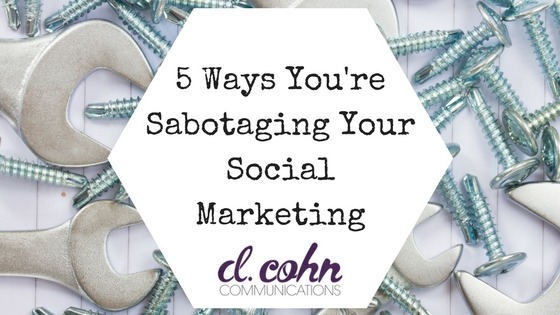 Search for advice about running a social marketing campaign, and you'll find countless blogs, articles, videos, and white papers offering wisdom. The enormous body of work that's been created about the topic can lead new marketers and business owners feeling overwhelmed and unsure where to start. Nonetheless, they jump in and try to do their best. Here are 5 mistakes we often see novice marketers making which can sabotage their social marketing efforts.
Trying to Maintain Accounts on Too Many Platforms
When there's endless information about each platform and how to use it, new marketers (or business owners trying to maintain their own marketing) often mistakenly believe they need to have accounts on all the major platforms. They have Facebook, Twitter, LinkedIn, Instagram, YouTube, and Snapchat accounts, and find it very difficult to keep up with creating content for all those accounts. They quickly get overwhelmed and can't find the time to keep all of those accounts updated regularly. They don't have the time to adequately use the platforms to their best advantage, and consequently don't see good results from any of them.
There is no need to have accounts on so many platforms. Savvy marketers choose only the platforms which reach their target customers. They devote themselves to producing content that will work specifically for those platforms. A Facebook Page is obviously where you should start as it has the largest number of regular users and the widest user demographics, but other platforms should be chosen only if they have a user base that matches the target audience. There is plenty of demographic data available for each platform.
Consider also whether the platform is suitable for your product and services – for example, if you don't have a visual product, then Instagram is going to be much more challenging. Think about the time it takes to successfully maintain an account on the platform – eg. Twitter can be quite time consuming. Also take into considerations what other resources you will need to produce effective content for that platform – staff time, writing ability, photography and video equipment, finances to promote posts, etc.
Not Following Best Practices for the Platforms
In the same vein, each platform has its own best practices for business marketing. Most of them have information available right in their Help sections about how businesses can make the most of their options. Additionally, there are countless articles and YouTube videos available online about how to optimize your social media marketing practices on the individual platforms. If you're sharing the exact same posts on all of your platforms, chances are you're not optimizing your posts for each platform. Time constraints may inspire you to share the same content on Facebook, Instagram, and LinkedIn, and sometimes that's fine, but it shouldn't be your sole strategy. Furthermore, you'll want to tweak that content to match best practices for each platform. How you optimize a post for success is different for Facebook, Instagram, and LinkedIn, for example, and knowledgeable marketers will adjust their strategy for each. Not adapting your marketing strategy to match the platform users' expectations can mean you will have little success on that platform.
Not Engaging With Your Following
Providing excellent customer service via social media is an absolute must. Ignore your followers at your own peril. If you receive comments on your posts, shares, reviews, questions, or messages, you simply must respond. I've written blogs about this several times before, and there are many more resources available to teach you how to do this. Yes, it's time consuming to respond to everyone who addresses you via social media, but it's time well spent. Yes, it means you have to check your accounts outside of traditional business hours, but the possibility of missing something is more costly than the time it takes to check your accounts during evenings and weekends. More and more customers are reaching out to businesses via social media before they call and before they visit. If you do not respond, you risk losing customers and marking your business as unresponsive.
Focusing Too Heavily on Your Products and Services
This can be tricky. On one hand, businesses want to advertise what they do. However, social marketing is social. It's about having a personality, about making connections, about being accessible and real. Social marketing should emphasize the sociable aspects of the business and the people behind it. Therefore, repetitive, dry posts simply showing your products over and over aren't going to work long-term. Your strategy should include your business's culture and people just as often as it highlights your products. Your product photos should be appealing and creative. Your copywriting should be interesting and engaging. For platforms such as Twitter or Instagram, you'll want to research and use hashtags which will draw people to your account. People have become very skeptical about straight sales pitches, and that's not really what social media is for. Mix it up a bit: show people what you offer, but also give them a reason to be invested in your company.
Not Using Enough Photos and Videos
Straight text is rarely enough to engage folks on social media platforms anymore. In fact, most platforms themselves discourage it. If you're not taking enough photos or videos, your social media efforts are going to fall short of your expectations. Video is the most powerful option for your posts and receives the most attention on all platforms. Social media users respond very well to video, and most of the major platforms have built video into their functionality. Even LinkedIn recently added the option to add native video to posts. It isn't necessary to produce polished professional videos, either. Simply going Live on Facebook or Periscope, creating Instagram or Snapchat Stories, or taking a video with your smart phone can draw more engagement from your followers. The same is true for photographs. Creative, appealing photos, even amateur ones, will draw a greater response from your audience than text alone. Don't be intimidated if you're not a master photographer or videographer. Use the resources you have to add visuals to your posts.
Social media marketing tactics from 2015 no longer work in 2017. Social media platforms change their features almost daily. You must be flexible and prepared to keep learning and keep improving to get the most from your social marketing. Start small, one platform at a time, and master it. Once you're seeing results, expand your efforts. There's a plethora of options available. Don't waste your time by sabotaging your own work.