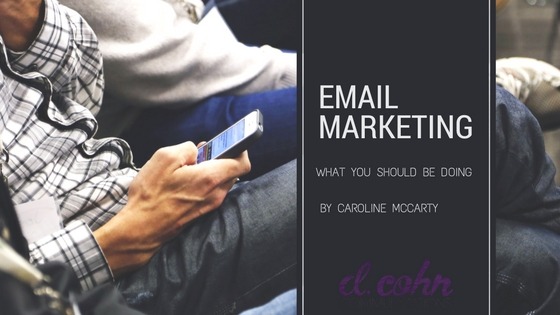 Email Marketing: What You Should Be Doing
Chances are you come into contact with email marketing on a daily basis, whether you're a digital marketer firing off email blasts or a consumer receiving your daily email newsletters from Pottery Barn and Petco. Email marketing is everywhere.
While a commonly-used and widely-accepted tactic in today's digital age, email marketing can be intimidating to professionals tasked with jumpstarting an organization's marketing automation efforts. Have no fear. We are here with a few helpful, basic tips to keep in mind as you're navigating through the world of email marketing. Here's what you should be doing.
Research different email marketing automation platforms to find the best fit
All marketing automation platforms are not created equal. Seriously. Each one comes with a different set of features and functions, a different user interface, varying rules and limits for contact lists and prospects and (of course) a different price.
Understanding your marketing automation goals and needs will help you determine which platform will be right for you. How many contacts will you need to manage? Will you need your marketing automation platform to sync with your existing CRM tool? What marketing automation capabilities are most important to your business? Answering these questions will be key to selecting the correct email marketing tool to best suit your needs.
Do a little research before deciding and investing. You'll want to select the platform that will help you achieve your immediate goals, but that will also work for you long-term, as well.
Understand your audiences and their email consumption habits, platforms and preferences
Once you've decided if you're an Eloqua person, a Pardot connoisseur or a Marketo lover, you'll need to sit down and really consider who your target audiences are when it comes to your email marketing efforts and messaging. As with all other forms of marketing, your audiences' habits and preferences should determine the direction of your email marketing strategy.
How does your target audience consume content? Do they rely heavily on email when making purchasing decisions? Are they Outlook or Gmail users? How many email touchpoints are too many? What will it take for your target audience members to opt out of receiving email communications from your organization?
These questions–among others–will be important to consider when crafting an email strategy. Developing a strategy that caters to the people you are trying to reach will increase the likelihood that they will enjoy receiving and engaging with your email content–rather than clicking "delete" right away.
Use catchy subject lines and A/B testing
A good email subject line is like a good newspaper heading: It grabs attention, teases at the full message and makes readers want to continue reading. Don't give away the full message in your email subject line. Instead, give your audience just enough to prompt them to click into your email to learn more. Don't be afraid to incorporate wit and humor into your subject lines, where appropriate, of course. Anything you think will interest and appeal to your target audiences is fair game.
Don't be afraid of A/B subject line testing, either. Almost all marketing automation platforms have this feature, which allows you to send an email to two separate sub-lists of your larger distribution list with two different subject lines. The email content and copy is the same in both, but the subject lines are different. This allows you to look back at the email's analytics after distribution and determine which subject line performed better, or prompted the largest open rate for your email. Unsure of what subject line to use or can't decide between two you think are stellar? Try A/B testing. Analyzing the results can help you learn to develop better subject lines for your specific email audiences moving forward. You'll have your subject line development down to a science in no time.
Keep your emails short, sweet and to the point
Have you ever stopped reading an email or a social media post because, frankly, it was just too long? We've all been there. In today's digital age, we're used to instant gratification and having access to the information we need quickly. So are your customers.
Apply this concept to your email marketing efforts. When developing email content, keep in mind that the most important portion of your message should appear at the very top of your email, before a customer has to scroll downward (even a little). That means you should get to the point right away, or risk losing your customer's attention. An email is not the place to re-purpose your favorite product brochure or white paper. Your customers will thank you for keeping your email content short, sweet and to the point…And they'll hopefully be more likely to engage with it, too.
Use calls-to-action strategically
It can be tempting to load your emails with hyperlinks, links to forms and other calls-to-action, but it can be confusing and overwhelming for your email recipients. Instead, decide on a single conversion goal for each email and frame your content around that.
For example, you might be sending an email with the goal of educating your audience about the customer support services your organization offers. Rather than including a link to your customer support team's email address and a link to their Skype information and a linked version of their phone number, try including a single link to the page on your website that houses information on your customer support services. Use a call-to-action phrase such as: "For more information on the customer support services we offer, click here."
Including one main call-to-action will ensure your audience members know exactly what action you want them to take. Additionally, it will be much simpler to track and evaluate your email's success during your post-email analysis. Once you've mastered singular calls-to-action in your email content, you may want to experiment with multiple within one email. The key is to use calls-to-action strategically to guide your audience members to take a desired action as a result of reading your email. Unnecessary, extraneous links and calls-to-action usually end up diminishing an email's effectiveness.
Track and review everything
This one is key. After you send an email or launch an email marketing campaign, make sure you are going back and reviewing the analytics associated with that outreach. Most email marketing platforms have analytics capabilities built in. Tracking and reviewing your email marketing efforts will provide a clear picture of how many of your contacts opened your email, what links they interacted with, how much time they spent reading your email content, etc. The list goes on and on. Most platform reporting is extremely detailed and, therefore, very helpful for marketers.
Reviewing your email analytics will help you draw conclusions about what is working really well (Yay!) and what might not be working so well (Aw, man!) with your email marketing strategy. An important part of continually evolving your marketing automation tactics is developing a full understanding of how you can improve on past efforts.
Experiment with drip campaigns and other automation tools and functions
Most marketing automation platforms provide a full suite of features and functionality that extend beyond distributing simple email blasts. Don't be afraid to experiment with drip campaigns, custom forms, landing pages and list segmentation. The possibilities really are endless, and the information you can potentially gather using these tactics is invaluable. Show off! You got this!
Reach out to experts and consultants for help
As with anything, email marketing comes with a learning curve. There are resources, consultants and experts out there to assist you with the technical operation of these platforms, as well as with tips for best practices and effective use of email marketing tools.
Hey…Look at that. You have an excellent resource right in front of you. If we can help in any way with your email marketing–or other digital marketing–efforts, don't hesitate to reach out. It's what we do.