Diversify Your Social Marketing Strategy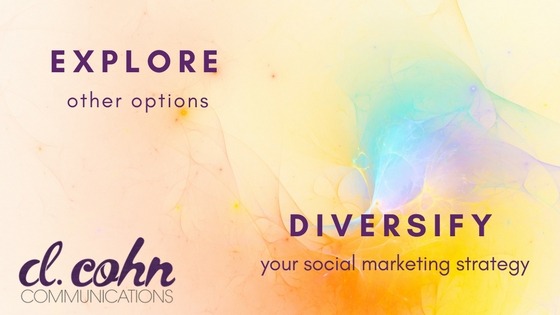 Is this the end of an era?
I can hear the gnashing of teeth and pulling of hair from here. Facebook has changed its News Feed algorithm again, and this time, there's no getting around the fact that Page Reach is going to be affected.
How much it falls remains to be seen, but your Page posts just aren't going to be seen by as many people — and many folks were already complaining about low Reach. It's just going to get worse. Facebook, no doubt to quell some fears, says that Pages which consistently put out good content won't see much difference. But let's face it, that's not most people. The rules we've been playing by (use video, use images, post at certain times of day, etc.) just aren't going to pull much weight any more. But instead of crying into your coffee, it's time to restrategize. If you haven't tried out other social platforms yet, there's no time like the present. Diversify your options and reach more fans.
Explore other options
While Facebook's announcement will surely drive people to explore other social platforms, you should have been doing that already. I know a great many people use Facebook alone for their social marketing, but that's a mistake any day, not just in situations like this. Why? Because your fans are spread out among several platforms too, and you want to be where they are. If your customers are big Instagram users, you want to be on Instagram as well. The same applies to Twitter, LinkedIn, Snapchat, Pinterest – even (snicker) Google+. Facebook was already making it hard for you to reach all your fan base, so trying different platforms is the answer.
Let's look at this from a case study point of view. A popular local housewares boutique has been using Facebook to advertise its products, sales, news, and other important updates. It has a good number of followers because it's a well-liked store and its customers are devoted. Some of its posts do very well and get a good response. Some of its posts get almost no response. There seems to be no rhyme or reason to which posts do well. What does our boutique do? It tries paid promotion. It pays Facebook to promote posts on a regular basis, and that does seem to help. These posts seem to reach most of its audience and get a good response. Then, slowly, even paying for promotion doesn't seem to be producing as much of a result. What should our boutique do?
Our boutique should definitely add Instagram to its strategy, and possibly Pinterest. Housewares, especially unique and highly visual items, do very well on Instagram. No doubt a good many of the people who follow the boutique on Facebook would also follow it on Instagram. In fact, this boutique may find that its daily posts on Instagram do a much better job of reaching fans than its posts on Facebook. If it learns all the tips and tricks to delighting its audience on Instagram, it may do very well indeed.
Don't be afraid to get help!
There are rules and guidelines to using Instagram (or any of the other platforms) for marketing. If you're not familiar with them, consult with a digital marketer. I know many businesses signed up for accounts at all the major social networks, never to use them again. That's not going to be very helpful. You don't need to be on all social networks, just the ones that will work for you. Learn one or two more platforms and put energy into using them well. If you don't have the time or desire to learn them, then hire a firm to do it for you. You simply can't keep all your eggs in the Facebook basket. It's time to change it up – and that's honestly a good thing.