The Benefits and Drawbacks of Social Media Marketing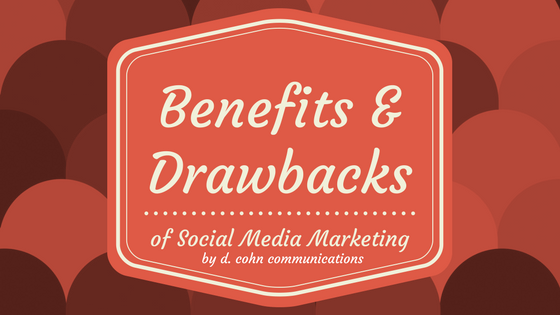 You no doubt know by now that social media marketing is an essential part of any marketing plan. Businesses and organizations both large and small need to include social media marketing when they're plotting how to best inform the public about their products and services and attract new clients. While social media is a potent way of connecting with the public, many simply jump into it without a coherent plan and see few results. Thinking through the benefits and drawbacks of social media marketing can help you create a social media marketing plan that will be effective and provide good return on your investment.
Benefits
Social media marketing provides word-of-mouth exposure and credibility.
It helps to think about this in comparison with traditional (print or broadcast) marketing. Traditional marketing should pull people into your sales funnel by catching their attention and sparking their curiosity. Imagine a billboard or a brochure. Whether people are looking for your product or service or not, when they see your billboard, hopefully they will be intrigued enough to seek out more information, and perhaps look up your website next.
Social media marketing has that possibility as well, but it does something even more powerful. It provides the word-of-mouth credibility that traditional marketing cannot. When you make posts on social media, there is still the possibility that folks who were not actively in the market for your product or service will see it and investigate further. But social media posts perform best when followers interact with them. These interactions (likes, comments, shares, etc.) provide a credibility and peer-driven attraction to your company. If many people have interacted with your post and a potential client sees that, they are much more likely to assume you offer a popular product and want to seek out more information. Better yet, when your posts are shared, your followers' friends will see the post, and now your followers are actively promoting your brand for you.
Studies have shown that when people hear about a product or service from a friend, they are significantly more likely to do business with the company. Social media provides a forum for people to talk about your products and be brand ambassadors on your behalf. And those customers actively searching for your product or service will see that you are active and well-liked on social media and assume that your followers know and respect your company.
Social media marketing is interactive.
When you are active on social media, your followers can actually interact with your company or organization. This provides another outlet for them to reach you, ask questions, learn about your service, and feel confident that you listen to your clients. When you interact with your followers, your posts are more likely to be seen by others on social media and inspire them to interact with you as well. These interactions benefit your company by giving you the opportunity to display your knowledge, expertise, and excellent customer service to anyone who finds you on social media.
Social media marketing is fun and informative.
Traditional media certainly can have an element of fun to it, but people come to social media with the expectation that they will be entertained and educated. When done right, your posts will engage your following by showcasing your products, services, customer relations, and company culture in a way that intrigues and delights them. This doesn't mean you can't be serious on social media, but it does mean your posts have to have an awareness of your audience and customer and what they want to see. On social media, few people want to see dry or boring posts, so social media gives you the opportunity to really shine a light on what makes your company special.
Social media marketing has the potential to reach large targeted audiences relatively inexpensively.
When done right, your social media has the potential to reach thousands more people than traditional print marketing. That's not to say it definitely will – and we'll cover that in the next section – but your customers are most likely on social media and expect you to be too. When you boost a post or an account on social media, the cost is relatively low. You can't take out a newspaper or magazine ad for as little as you would spend on a very effective social media ad campaign. If you set your targeting options right, you can tailor your posts to reach very specific demographics, the ones that are most likely to be interested in your products and services. This can offer excellent return for your marketing dollars.
Drawbacks
Social Media Marketing is Not Easy and Not Free.
While social media ad campaigns are relatively inexpensive, the cost of marketing on social media is anything but free. Just as with any marketing collateral, you need to either have an expert on staff or contract it out. Just as it's unlikely that you would try to create your own logos, brochures, or newspaper ads if you don't have a background in design, you should leave social media marketing up to the experts if you want it to be effective. Not only should your social media marketer be up to date on the full functionality of all the platforms you use, he or she should know the best practices for getting your messages seen by the largest number of people. He or she should know how to optimize your accounts for the greatest exposure. He or she should know how to create posts that are going to be most engaging. He or she needs to be an excellent writer with the ability to take high-quality photographs and make videos, with a background in marketing. If you're trying to do your own social media marketing and not seeing a return on it, this is most likely your problem.
There's no magic bullet to acquiring followers.
If you're posting on social media but not attracting followers, you need to think through your strategy and adjust. However, some industries are harder than others to build a strong following. As we said above, people want to be entertained and educated on social media, so boring posts about your products are not going to interest folks enough to make them want to follow you. Building a social media following also takes time. Where traditional marketing gives a quick burst of activity, most of the time it takes a while to build a decent following on social media – think 6-12 months. That's 6-12 months of making posts, promoting your accounts and posts, interacting with others on the platform, and finding creative ways to get people to your account. Be consistent and patient.
Social media accounts must be monitored around the clock.
Because so many clients are turning to social media platforms to interact with businesses, you have to be ready when they contact you. This means you have to watch your accounts for interactions outside of business hours. Studies have shown that people who interact with businesses on social media are more loyal, and many expect to be answered within an hour. If it's 8:00 pm, you still need to reply. This can be troublesome and tiring for people who just want to leave the office and forget about work for the day, so someone with a strong sense of customer service should be watching your accounts after hours.
While social media marketing is beneficial, expected, and now a normal part of any complete marketing plan, some barriers to using it effectively remain. Building a strong social marketing plan and assigning its maintenance to a reliable marketer is key to making social media work for you.