8 Takeaways from the Social Media Strategies Summit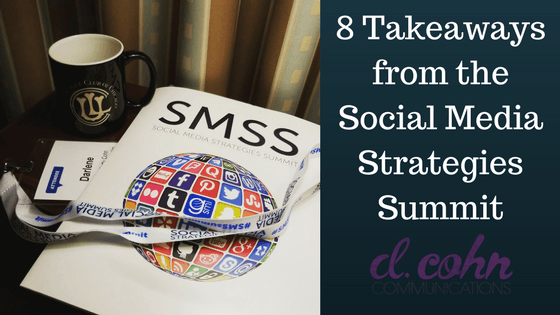 8 Takeaways from the Social Media Strategies Summit
The Social Media Strategies Summit took place this past week at the Union League Club in Chicago. It definitely stood out as one of the more valuable and well-organized conferences I've been to. Hundreds of marketers converged to learn about social media marketing from some of the most recognizable names in the business. National brands spoke about their social marketing efforts and how these integrated with their overall marketing plans. The variety of topics was terrific. My only complaint was that I could only go to one session at a time, because there were often three happening at once and I wanted to be at all of them. Sadly, cloning technology hasn't advanced that far yet. (As a side note, I'd also like to give a primer on prepping PowerPoints to some of the speakers, but I can overlook a sloppy slideshow if the talk is interesting enough.)
A few themes stood out and they're worth sharing here. Whether the speakers were talking about creating effective video, data listening, content creation, or paid social campaigns, recurring messages resonated.
Creative, personalized, well-thought-out content is absolutely crucial.
Almost all of the speakers, in their own way, touched on the necessity of content that delights and invites an audience to engage. Whether creating simple posts, videos, or multi-channel campaigns, social media marketers need to dig deep into who their particular audience is and what they want to see. Given the huge ratio of signal to noise on social channels, getting noticed requires careful planning and targeted execution with your audience in mind.
A subset of #1 is the call to stop hard-selling on social.
As Gunjan Bhow, Senior Vice President, Consumer and General Manager of Disney Movies Anywhere for the Walt Disney Company put it, "Stop being a hawker at a party." Folks come to social media for fun and for information, not for advertising. Consumers are very savvy now, and you must respect that. If you're going to use social media for marketing, you have to be entertaining and subtle. Content that screams "BUY THIS!" isn't going to get any engagement whatsoever, and you'll probably even lose followers if this is your strategy.
The best social marketing is collaborative.
You probably, hopefully have a team to rely on. Your sales department, your marketing department, your creative team, and your social media managers should all be working together to plan effective social campaigns. (If you're going it alone, I feel for you. I've been there.) All have something to contribute to crafting effective campaigns, and you should lean on them to help you design social campaigns that will hit home, delight followers, and provide ROI.
Customer service happens on social media.
I've written and spoken about this before, so I admit I felt a little vindication at having Tim Lopez of Symantic spend 45 minutes talk about how important it is. He detailed the process of developing social customer support for Norton, and it was fascinating to hear how an international company does it. Lopez developed a strategy from monitoring social mentions solo, 24-7, to a multi-channel, multi-lingual, well-oiled customer service machine. We don't all need the staff and tools that Norton has at its disposal to provide social media customer support. A simple Hootsuite account and the will to serve people will work just fine. However you manage your accounts, though, social customer service just isn't an option anymore. You simply must listen and respond to your audience.
Multi-media content rules, especially video.
We all know visuals are crucial for high-performing content, so we need to be working all kinds of appealing images into our posts. Ryan Peña gave a great presentation on how to create compelling video on the smallest budget (hint: you probably have a smartphone.) Live and streaming video are hot stuff right now too, of course. But the takeaway from the video sessions is this: you must tell a story. No one is going to watch talking heads or static images for long, so make your video as engaging to an audience as you would any other content. Plan out your videos as much as possible, and prepare to do some editing. The video editing software that comes pre-installed on your computer is probably sufficient to get you started.
Data, data, data, and more data.
We know there's a lot of data available from our social platforms but so few content marketers really drill into it. If we want to know who our audience is, if we want to know how our campaigns are performing, if we want to show return on investment, there's plenty of data at our disposal. Many social marketers are creatives, leery of poking into the data, but it's crucial for creating campaigns that really work. Not only do the platforms provide this data, but there are many tools out there to dig even deeper. Embrace the data!
There was plenty of talk of the need to accept that organic reach is simply a thing of the past. If we truly want to reach our followers, we need to beef up our budgets and get ready to promote. The good news: targeted advertising. Social advertising can be far more effective than traditional advertising because it's possible to be laser focused on our audience and far more interesting. Along with the need to pay for promotion, there were also some wonderful sessions on influencer marketing. Coca Cola's Ambassador program is colossal and beautifully orchestrated, and they have the results to prove it. Choose your influencers wisely.
Be human.
I'll be honest, probably my favorite talk was Bryan Kramer's Shareology session, based on concepts from his book of the same name. I couldn't take notes fast enough and eventually resorted to taking pictures of the slides of his PowerPoint. (This man knows how to make a PowerPoint.) He emphasized that on social media, we are communicating human to human (or #H2H, as he puts it.) and should rely on the H2H Pillars: Simplicity, Empathy, and Imperfection. Technology makes communication easier, but we must remember there's a real live person on the other end of our posts. This should inform our social marketing strategies and the kind of content we create. It was a funny, warm, and inspiring talk that made me want to step out from behind my purple "d." online and be the silly redhead I really am. So hi. You're cute.
I left the Social Media Strategies Summit exhausted, overwhelmed, yet inspired, so I'll definitely be going back next year. Hope to see you there.