5 Lessons From the Front Lines of Social Media Marketing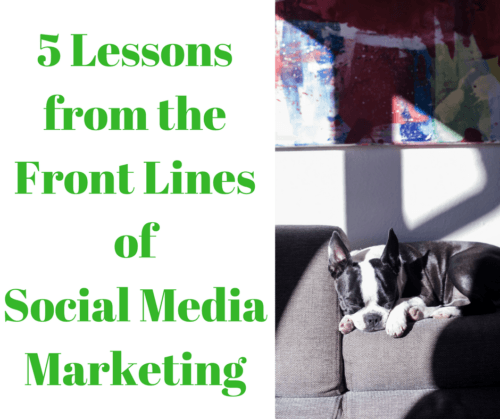 5 Lessons from the Front Lines of Social Media Marketing
Bri and I have been managing social media marketing accounts for businesses and organizations for more than four years. That may not sound like a long time, but social media marketing hasn't been around that long. We were one of the first companies in the area to specialize in digital marketing. Believe it or not, it's only been a few years that organizations have been specifically including social media in their marketing plans. When we started, social media marketing wasn't even taught in university marketing programs. Now, no program would be complete without it.
In our years devising social media marketing strategy and managing accounts for people, we have learned a thing or two. We offer up these nuggets of experience for those just starting out, or for those who have maybe taken on social media marketing but who are frustrated by a lack of response. Perhaps these 5 tips will give you some wisdom and comfort.
Engagement is often unpredictable.
Everyone wants the "magic" bullet of social media success. If we had a dollar for every client who wanted us to make something "go viral", well, we'd have enough for a nice dinner. It just doesn't work that way. There is no magic bullet. Sometimes, what people are going to like is unpredictable.
For example: you spend hours taking beautiful photographs of a well-attended business event, or creating a video that's a perfect expression of your business, or writing a blog that is a perfect blend of wit and information. You post your work of art and then…crickets. No likes. No comments. No shares. What happened? Well, your work of art just didn't resonate with your followers.
The opposite is equally likely. You snap a shot of your dog lying on the floor of your office with your phone, and blammo! The world is in love with you. Likes, comments, oohs and aahs, shares a plenty. What gives? (Actually, see #2 below.)
What seems awesome to you is not always what will strike your followers. Social media marketing, is, to some extent, trial and error. You have to be creative, try new things, try a variety of post types and subjects, and use your metrics to help you determine what's working – then do that again. All the major social media platforms offer data to help you measure your engagement. Use it. But don't despair if one great post goes unloved. The best thing about social media marketing? There's always tomorrow.
Kids, Dogs, Cops, Food.
Once, I took a picture of a smiling cop, kneeling down, petting a dog, looking at a little girl standing next to him. Facebook blew up. Mark Zuckerberg called to congratulate me. (Just kidding.) There are some subjects that are just more reliably social than others. You don't need me to tell you the Internet is all about animals. If you can work a picture of a cute kid, a dog (or even better a puppy or kitten), anything patriotic, or delicious-looking food into your post, you're probably going to see a boost in engagement. Not always, of course. You just read #1. You know there's no magic bullet to making a popular post. But there are some trigger-y subjects that people have a hard time resisting. As I suggested in the last post, this will often work even if your business has nothing to do with kids, dogs, patriotism, or food. People just like seeing pictures of these subjects. We're only human. Try it. See what happens.
Research, Organize, Plan, then Execute.
Social media marketing doesn't work when it's scattershot. You need consistency; you need a plan.
When Bri and I take on a new client, we put in a lot of up-front work before we even start posting. We spend as much time with our client as possible, getting to know their company, their culture, their products, their goals, their values, their people, their customers, their dreams. We need to know as much as we can about the organization we're going to be marketing as possible. Why? Because unlike a billboard or a tri-fold, social media marketing isn't a one-shot deal with a big logo and a little information. It's constant, it's repetitive, it's ongoing, it's social. We need to create posts over and over again, several times a week, that meet the company's marketing goals. We need to be consistent with their branding. We need to reach their audience and draw new clients in. People are going to interact with the company if it's on social media, and we need to know as much as possible if we're going to be their customer service representatives 24/7.
Once Bri and I have a good feel for the company and what its goals are, we sit down together and craft a plan. We don't create posts, we create a plan. We think through what kinds of posts we think will work well. We plan out what subjects we'll post about. We decide what tone and voice to use. We decide how often we'll post, to which accounts, and what time of day we believe their clients will be online. We think through what visuals to use, how to create them, what subjects we think their customers are going to want to see.
And THEN we start posting.
To create a good social media marketing plan, you have to do exactly that – plan. Many people just start posting anything they think is appropriate and wonder why they don't get a response. They post at the wrong time of day. They post too often, or too little. They talk too much about their products, or not enough. They use the wrong tone and put people off. They forget that social media is social – it's all about engaging with real live humans. They don't have a plan for how to respond to people off-hours or on weekends.
When you're creating your social media marketing plan, don't just guess: research, organize, plan, then execute.
It takes 2 (or 3 or 4.)
Social media account management is a round-the-clock job. It doesn't stop when the work day's over. It doesn't stop on weekends. That is simply more than one person can comfortably handle – trust me. Before Bri joined me, I managed all the client accounts by myself and it was exhausting. So here's what Bri and I do: She's the Social Media Manager, and the overall client representative. She creates the majority of the posts for our clients during the work week during normal work hours. Once her day is done, I take over. I post in the evenings/nights and on weekends and holidays. During our "shifts" we each monitor the accounts. If there is engagement during the day, Bri handles it. If it's after hours, I handle it. Both of us have our clients' cell-phone numbers and email addresses in case something comes up that we need to discuss with them. We try to save these interactions for the work day, but sometimes a client needs to know about something as soon as possible (a complaint or negative review, for example.)
Social media marketing is powerful because it puts you in direct contact with your clientele, but it needs to be handled as if your door is always open. When people contact you via your company's social media accounts, they expect quick response, so someone better be watching the accounts ALL THE TIME. That's a lot of work for one person. So I highly recommend having at least two people, and if you're a big organization, 3 or 4 people, monitoring the accounts. Not everyone has to create posts (in fact, I suggest you limit the number of posters), but having more than one person watching and responding to the accounts makes life much easier for everyone, and much better for your customers. They'll get the response they're looking for, as quickly as possible, whenever they reach out.
Be patient.
This is the hardest, hardest, hardest thing to communicate to new clients. Social media marketing takes time – much more time than traditional print marketing. Sometimes it takes months to build a following, sometimes longer. Depending on your industry, you might never get as big a following on social media as you would like. But that doesn't mean there isn't value in it. If your posts are interesting and engaging, you will build a following, but for most people, it just doesn't happen overnight. Even if you start out with 25 followers and they're all your friends and family, don't stop posting. They'll engage, they'll share, and bit by bit your following will grow. Promote your accounts on your website, on your print marketing tools, in your office or shop. Tell people you're on social media. Be active on social media, and people will find you. Don't give up just because you think it's not growing fast enough for you. Hang in there. Social media marketing is a long-term investment, and its unique ability to connect you directly with your clientele is not matched by any other form of marketing. Settle in for the long haul.
So those are my 5 reflective nuggets of experience for you. I hope you found them helpful. As always, we love social media more than anyone should, and if you have questions, we have answers. Drop us a line or call.