5 2017 Social Media Marketing Resolutions
5 Social Media Marketing Resolutions for 2017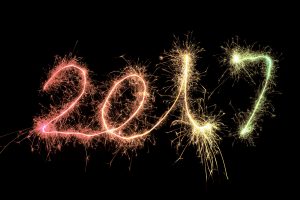 Bucking the already tired trend, I'm going to skip the usual 2017 Social Media Marketing Predictions article and focus a little more closely on this week: 5 Social Media Marketing Resolutions to Make for 2017. Just like cutting down on sugar and working out more often, these are things we know we should be doing, but maybe haven't gotten around to yet. No time like the present to start the New Year off right.
Create a Social Media Use Policy for your company or organization.
What guidelines have you provided for your employees about expectations for their behavior on social media? I don't mean their personal accounts necessarily, but how they use your official accounts. Missteps on social media can be very costly to your pocketbook and your reputation. While we all want to assume our beloved employees would never do anything to harm their organization on social media, we all know it happens, intentionally or otherwise. Get your policies down, in writing, with the help of a lawyer, and make sure all of your employees have a copy and have read it.
Create an Actionable Social Marketing Plan.
Are you winging it on social media? No good. Sit down with your marketing people (or an independent marketing consulting firm like D. Cohn Communications) and get a real plan in place that fits seamlessly with your total marketing goals and plans. Your social media marketing is only as useful as you plan for it to be.
Post Intentionally.
Does your social media marketing content come from an intern who posts whatever seems relevant in the time he/she has in between 15 other projects? You'll want to improve on that. Social media marketing only works well when there are specific goals and actionable plans in place. Posts shouldn't be random, they should be laser-focused. Your social media marketing should reflect the same attention to detail you put into your services and products.
Be Responsive.
Customer service happens more and more on social media. Thank you, mobile devices! If your business is online, you can't afford to ignore your clients. If you aren't interacting with your followers, you are missing a huge opportunity to create brand fanatics. Answer questions, thank your patrons, provide information, and respond positively to all reviews (yes, even negative reviews can be spun to reflect positively on you.) Positioning someone in your company to keep watch over your accounts day and night can be challenging, but social media makes customer service a round-the-clock job. Make sure someone is watching, and responding, to customer interactions in a timely manner. You can always hire an outside firm to do that, if necessary. (Ahem.)
Try New Things.
Feel like you've got Facebook marketing down? Good for you! Now shake it up. Add variety to your posting strategy. Throw in more video. Go Live once in a while. Or branch out and learn about other social media platforms. Depending on what kind of organization you're running, a Twitter or LinkedIn account might work well for your business. Looking to step a little further afield? How about Snapchat or Instagram? There's so much variety available, your social media marketing should never be boring.
Feel energized and ready to tackle whatever 2017 brings to you on social media? We hope so. As always, we live to answer questions, so feel free to ask away. Good luck! (And good luck with the sugar thing, too. That's one of our resolutions as well.)