12 Days of Digital Media, Part I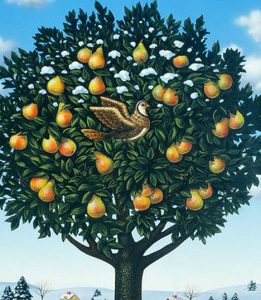 The Twelve Days of Digital Marketing: Day One. 
More frustration has erupted in the wake of Facebook's latest reveal that it will cut business Pages' organic reach even further in the interest of encouraging brands to pay for News Feed space. I continue to be perplexed that any business thinks advertising should be free, and I truly wouldn't suggest anyone drop their Facebook page. It's a much better idea to either learn how to use it effectively, or pony up the truly minimal fee to boost your page once in a while.
Nonetheless, I'm offering up a digital marketing holiday present – 12 alternatives to Facebook marketing, cleverly—or oddly, depending on your perspective—lined up with the 12 Days of Christmas.

(I apologize if you get the song stuck in your head. It's stuck in mine now too.) We'll be presenting one option every other day through December. Note: not all of these are free options, but again, whether you calculate the cost of digital marketing in time or actual dollars, effective social marketing is never free.
On the first day of digital marketing, D. Cohn said to me, you need a Partridge in a Pear Tree! (a.k.a. A Well Designed, Responsive Website)
Whatever digital marketing strategy you have, it should be designed to drive traffic to your website, where a user can easily find current, accurate information about your business.
Social marketing is about using social traction to build awareness of your organization and promote brand loyalty. In other words, you use social media to lure those curious Partridges to your Pear Tree (I may be stretching these metaphors a bit. Stay with me.) But if your Pear Tree is more like an overgrown shrub, the partridges are not going to stay. If there's not enough fruit there (if they can't quickly find the information they're looking for), your partridge is going to look for a more suitable tree. You can have the best social media accounts around, but if your website is shabby you're not ready for the next 11 days of digital media gifts — so start there. Before putting a lot of time and money into building a social following, make sure your Pear Tree is as inviting as possible.
Next up, Two Turtle Doves. It's all about drawing in the lovebirds.