12 Days of Digital Media Day 3
12 Days of Digital Marketing: Day Three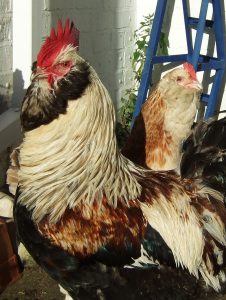 Consider the French Hen of legend, purported to be the lovely Faverolles. It's showy. Such plumage! It's often raised as a pet. That said, it's also apparently an excellent "table bird" and prolific "layer." Yum.
Now let's imagine, for a moment, that inspired by the lyrics of our favorite Christmas song, you and two of your friends get a hankering for a French chicken dish, expertly prepared. Where do you three turn to find the best coq au vin in your town? Yelp.com, of course. If you're using a smartphone (and you probably are,) you'll check out the Yelp app. There you can find all the French restaurants near you, select a good one based on the reviews left by previous diners, look over the menu, see photographs of the food and restaurant, and call for reservations.
On the third day of Christmas, D. Cohn said to me, claim your Yelp page already.
Yelp isn't just for restaurants. People look up all kinds of services and suppliers on Yelp.com. You can research automotive help, religious institutions, professional services, medical care, hair salons, and many, many other services as well.
As Yelp's business page claims, "Yelp is the #1 local/regional website and mobile app," with "139 million average monthly unique visitors." That means that people who used to go to their phone book to find goods and services now go to Yelp.com. Who needs a phone book when you have Yelp on your smartphone or tablet?
A Yelp user only has to register to leave a review. So it only makes sense for a business to claim their Yelp page. If you don't claim your page, your business will likely end up on Yelp anyway, if it isn't already. Registered Yelp users can create an entry for a business, and the reviews will start flowing in. If you don't claim the page, you'll be powerless to control it. But if you do (which is free, but takes some administrative communication with Yelp.com) you suddenly have many more options. Claim the page and you will be able to clarify or correct information, manage the images, the logo, and add a menu or list of services. You can respond to reviews. Take it a step further and pay for Yelp, and you can create targeted Yelp ads and promotions, and prevent competitor ads from showing on your page. You'll also be able to add slideshows and videos.
One important thing to realize about Yelp is it's far more effective at securing business than the phone book ever was. The conversion rate is amazing. Yelp says that "82% of users visit Yelp with the intent to purchase from a local business." Your diners already know they want French hen! Give them what they want, because apparently 89% of those who decide upon a purchase using Yelp do so within a week. Those are nice numbers.
So if you haven't already done it, head over to Yelp and claim your business' page or create a new one. Don't forget to add links to your shiny website and social media accounts as well, and boost your SEO a bit.
 Join us next blog when we dive into the incessant twittering of Four Calling Birds.