12 Days of Digital Marketing Day 2
The Twelve Days of Digital Marketing: Day Two
Over the next few weeks, we're looking at 12 digital marketing tools other than Facebook. We've got this 12 Days of Christmas theme going, because it seemed like an amusing way to tackle what is frankly, kind of a dry subject. I mean, how do you make Instagram sexy?
With a big juicy pink heart.
So, on the Second Day of Digital Marketing, D. Cohn said to me, Two Turtle Doves (which make amazing Instagram pics.)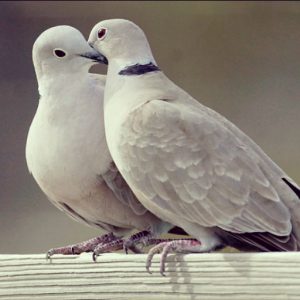 If you've never used Instagram, it's a photo/video app for your smartphone that comes with built in editing tools and filters. This lets you easily turn photos and 15 second videos into works of photographic genius. Your pics of the pet turtle doves you got for Christmas have never looked sweeter.
But Instagram also a social platform. Instagram users follow one another and organizations' accounts as well. An Instagram feed isn't terribly different from other social media feeds—you will see all the photos and videos posted by the people you're following. You can Like those images by clicking on the photo or heart icon and adorably, a heart shape appears and turns pink. Ahhh, love.
You can also leave comments on Instagram posts, get a conversation going, and tag other users. You can automatically share your Instagram posts to other social media accounts like Twitter. Hashtags both literal and creative are essential. #TurtleDoves #Sweet #Spoiled #CooingForChristmas
It's easy to create a business account for Instagram, and the platform has many tips for companies who want to make the most of it. Organizations and companies who want to get in on the Instagram game need to create a strong strategy before venturing in. Think through what subject matter you'll photograph. The subject matter should be compelling enough that your followers will like and talk about it. If your product or service lends itself to visual marketing, this should be a piece of cake. If not, you may need to get more creative. You'll also want to plan out a consistent "look" for your photos to brand yourself on Instagram. Tag every photo you post with your brand's own hashtag. Research hashtags before you claim them. You want to know who else is using the one you want.
Build your following by following accounts yourself. Often they'll follow back, but there's no rules about that. For etiquette's sake, limit yourself to following other brands and people you know personally. You can also hold contests, encouraging followers to take photos on a theme and tag them with your name or hashtag.
Posting every day is a great strategy to get started, but there are no hard rules on Instagram. Don't forget to cross-promote your account on your website and other social media accounts. And have fun. Instagram isn't a serious platform, but it can be seriously useful.
Oh, and avoid the "Toaster" filter. Everyone hates that one.
Next Up: Three French Hens (or where to find a good Coq au Vin in Chicago.)